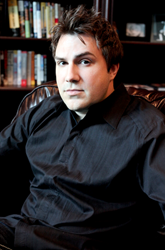 I see potential. Potential for investment and new development. The Internet of Things is going to grow, and we might as well address these pitfalls now, before they grow into serious problems
Scottsdale, AZ (PRWEB) January 06, 2015
With predictions between 25 and 50 billion connected devices by 2020, it's no wonder that EE Times tech experts are pointing out potential pitfalls for the Internet of Things in the coming year. Together with EE Times writer Junko Yoshida, Jason Hope indicates information that consumers and developers need to know as they venture into the Internet of Things world.
According to Yoshida's article entitled "Pitfalls in Internet of Things for 2015 and Beyond," which was published on December 23, 2014, 2014 brought discussions of the Internet of Things to the table. Now, moving forward, tech experts expect us to see the true growth of new products and new interest in connectivity begin.
In the article, Yoshida quoted several tech experts who talked about potential downfalls the Internet of Things will have to address as it moves forward. One of these experts, Skip Aston of Silicon Labs, indicated that the industry is going to need to change its focus from the Internet to the devices, or "things," that are connecting to that Internet.
Ashton indicates that manufacturers are going to need to know what those things are supposed to do, how they are going to think and how they are going to behave. This points to the issue of application layers. Ashton also warned that unsolved security and privacy issues are going to need to be addressed.
"These concerns," said Jason Hope, "are an opportunity for some companies. Companies who can step in and make the changes necessary to fix these problems will have great potential in the Internet of Things."
Reza Kazerounian of Atmel indicates that the Internet of Things is also struggling because it is targeting too many different market segments. The Internet of Things, Kazerounian says, "Is an extremely broad market."
Other issues addressed in the article include the problems of sensor hubs, security risks, and the lack of multi-protocol, multi-band wireless MCUs.
"Where some experts see problems" says Hope, "I see potential. Potential for investment and new development. The Internet of Things is going to grow, and we might as well address these pitfalls now, before they grow into serious problems."
About Jason Hope
Jason Hope is an entrepreneur and futurist who believes that the Internet of Things has incredible potential to improve life for the average individual. He spends his resources supporting research and advancement in this and other fields as the world moves forward to being more heavily connected to the Internet. Learn more about his ideas at http://www.jasonhope.com.