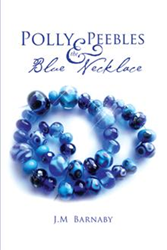 NEW ZEALAND (PRWEB) June 23, 2014
One of the best things about being a child is the fact that one can use one's imagination, and be transported to a world of magic and adventure. In "Polly Peebles and the Blue Necklace," author J.M Barnaby has written a truly engrossing story that captures this sense of wonder.
"Polly Peebles and the Blue Necklace" begins when Polly, who lives in New Zealand, goes to spend the summer holidays with her two cousins, who have been given a canoe for Christmas. Polly, the two boys and their four friends, meet at the river to try it out. When Polly's turn comes, the canoe tips her out and when the others try to rescue her, they are all sucked under the water to a strange world. There they meet a strange ancient little man named Caradus, who tells them they are there to help Polly find the nineteen beads which make up the blue necklace. The beads are magic beads and have been taken to places all around the world. And so the journey begins and they travel by unusual means; a weird elevator, a strange plane and train, a magic carpet, a rocket, flying horses, on the backs of whales and by balloons.
Their search takes them to New York, Paris, Rome, Zimbabwe, The Great Wall of China, a cave under a Scottish castle, to Athens and a Greek Island, San Francisco, as well as Moscow and London. "Polly Peebles and the Blue Necklace" is an enthralling adventure where anything can happen.
For more information on this book, log on to Xlibris.co.nz.
About the Author
After a lifetime of association with children (which included starting a school in Auckland), J.M Barnaby 'retired' to Geraldine where for the past 14 years he has tutored children of all ages in reading and English. Because of this, he abandoned a partly written adult novel and decided to write for children instead.
Polly Peebles and the Blue Necklace * by J.M Barnaby
Publication Date: February 27, 2014
Trade Paperback; $34.99; 126 pages; 9781493129591
Trade Hardback; $54.99; 126 pages; 9781493137442
e-book; $4.81; 9781493129607
Members of the media who wish to review this book may request a complimentary paperback copy by contacting the publisher at 0800-443-678. To purchase copies of the book for resale, please fax Xlibris at (09) 353-1455 or call 0800-443-678.
For more information, contact Xlibris at 0800-443-678 or on the web at Xlibris.co.nz.