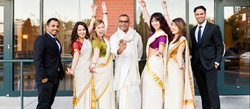 "This epic cultural and culinary evening features a 21 course South Indian feast by Chef Asha Gomez. Her storytelling ranges from the roots of each spice to a symphony of the senses. A true mindful journey through Kerala."-Rose Pavlov, Ivy Child Founder
Worcester, MA (PRWEB) October 28, 2014
The transformative power of mindfulness has been proven to improve quality of life by reducing stress, depression, anxiety and violence. As our nation suffers from an increasing number of domestic conflicts, the critical need for effective mental and behavioral health practices is in high demand to target and reduce violence. This event aims to unite communities towards peace-building efforts and to create awareness about the positive impact of mindfulness throughout New England.
A Journey to Kerala will take guests through a traditional, 21-course vegetarian sadya (feast) inspired by the spices of Kerala, India. The authentic experience will be accompanied by Chef Gomez's culinary storytelling, ranging from tastes on the palate to the symphony of the senses. The event will also feature a VIP reception, traditional entertainment, and a silent auction. All guests are encouraged to wear cream and gold, honoring Kerala state colors of India. All proceeds from this event will benefit Mindfulness-Based Learning programs in Worcester schools.
The Top Chef in this benefit, Asha Gomez, was named Best New Chef in 2013 and 2014 by Food & Wine Magazine – People's Choice semi-finalists. In 2013, Gomez opened a new venture through a "culinary conversation" called The Third Space. She followed that with Spice to Table, a new breakfast/lunch concept opened earlier this year and Spice Road Chicken coming to the highly-anticipated Krog Street Market later this year.
Ivy Child's goal is to make New England a mindful region by engaging communities and creating joy and awareness towards a larger mindfulness movement – locally, nationally, and globally. Through this event, with all the guests' participation and sponsorship, Ivy Child ensures its mission helping each child achieve their best.
For more information, please email Shan Koay at skoay(at)ivychild(dot)org or visit http://www.ivychild.org
About Ivy Child International
Ivy Child is a non-profit organization working to enhance the social and emotional well-being of children worldwide by recognizing their multicultural needs, and using education rooted in positive psychology as a uniting force to inspire resilience and leadership. Ivy Child develops mindfulness-based health education programs for children, youth, and families in hospitals, schools and community sites.
Contact:
Rose Pavlov
rpavlov(at)ivychild.org
http://www.ivychild.org
http://www.facebook.com/ivychild