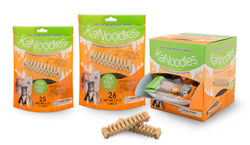 Menomonie, Wis. (PRWEB) December 09, 2014
KaNoodles® Premium Dental Chews for Dogs have been awarded the honor of a 2014 Pet Business Industry Recognition Award. The winners were selected by the editorial team of Pet Business and announced in the magazine's December 2014 issue.
Cherie Grandt, Director of Marketing at Vets Plus said, "We're so excited to have received this award for the new KaNoodles chews. They're a unique product—from the ingredients to the shape—and we're excited about how the industry and pet parents are embracing the chews."
KaNoodles Premium Dental Chews boast a flexible shape with deep grooves that maximize contact with the tooth surface for a better clean. Grandt said, "As the dental category grows, pet parents have more options for convenient oral health care. KaNoodles chews stand out because of their flexibility and digestibility." The chews are made of an extruded pasta base that is completely digestible, so there's no harm to the dog if swallowed. With zinc, Omega-3 fatty acids, and soluble fiber, KaNoodles chews help keep teeth and gums healthy while providing support for a strong immune system.
KaNoodles chews for dogs were launched in the USA and Canada in August 2014, guaranteed by PetsPrefer®. KaNoodles chews are available in four sizes for adult dogs small to extra-large.
About Vets Plus, Inc.
Vets Plus, Inc. (VPI), located in Menomonie, Wisconsin, is a leading manufacturer of health and nutritional supplements for both food and companion animals. With over 20 years of experience, Vets Plus creates custom formulations for contract manufacturing of innovative probiotic, prebiotic, nutritional, and nutraceutical products in a wide variety of feeding forms. Vets Plus is proud of its continued growth into a leader within the animal health industry and ability to manufacture a wide range of products while maintaining SQF Code 7.2 Level 3, ISO-9001:2008, and NASC certifications. Vets Plus is a member of the National Animal Supplement Council (NASC), American Pet Products Association (APPA) and American Feed Industry Association (AFIA).
###