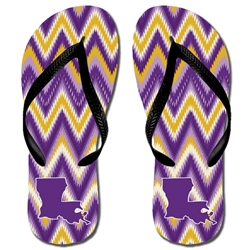 We wanted to give these students--and other fans--a far more affordable means of dressing up for the big game.
Dallas, Texas (PRWEB) February 26, 2014
Katydid Collection, a privately held women's clothing label and lifestyle brand, plans to unveil several new college-themed products at the upcoming 2014 Campus Market Expo (CAMEX) trade show. As an exhibitor at this year's CAMEX event, which will take place March 9-11 at the Kay Bailey Hutchinson Convention Center in downtown Dallas, Katydid will give customers and other trade show attendees a sneak peek at school-focused footwear, decorative home accents, and related accessories in original designs.
Scheduled to be released in early or mid-spring, Katydid's first series of college-themed merchandise will include flip flops, scarves, tee's, throw pillow and coasters. These made-in-the-USA products will feature colors and themes associated with Big 12 and SEC powerhouses such as Alabama, Texas A&M, TCU, Texas, Texas Tech, and Oklahoma. A wider selection of items and school color combos is expected to follow later in the spring or summer.
Katy Messersmith, president and head designer at Katydid Collection, predicts her label's new products will resonate most with budget-conscious students, alumni, and fans.
"Wearing school colors is a classic way for college students to show off team pride and school spirit, but can be very expensive when shopping on campus," Messersmith says. "We wanted to give these students--and other fans--a far more affordable means of dressing up for the big game or creating the trendiest room in the dorm, and we believe our new line is a major step in that direction."
Retail buyers wishing to preview Katydid Collection's college-themed product line at CAMEX 2014 must fill out an event registration form, which can be found at http://www.camex.org. Interested parties that are unable to attend CAMEX are invited to submit product queries via the official Katydid Collection website at http://www.katydidcollection.com.
About: Based in Dallas, Katydid Collection is a privately owned and operated clothing label designed by Katy Messersmith which specializes in women's apparel and accessories, such as hats, jewelry, scarves and footwear. Katydid Collection has elevated the tee from a casual basic to a fashion-forward staple. Featuring youthful modern designs, creative embellishments, vibrant colors, popular motifs with exceptional quality and great prices.