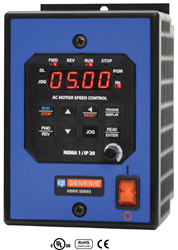 "This new KBWK drive is a digital version of our popular KBWA Series Hybrid Drive and is a great addition to our expanding AC drive product line."
Coral Springs, FL (PRWEB) September 23, 2014
KB Electronics, Inc. a manufacturer of AC drives and DC drives from fractional through 5 horsepower, introduces a new AC digital drive to their current product line. The new KBWK-23D operates with either a 115 or 230V AC line, is housed in a NEMA 1 / IP 20 enclosure, and features a digital display with LED status indicators. This drive is rated for 3-phase induction motors to 1/2 horsepower. Common Sense Programming (CSP™) is included, which organizes parameters into easy to understand intuitive groups.
"We are pleased to continually deliver quality AC drives to our customers," reports Vice President of Sales, Alan Bueller. "This new KBWK drive is a digital version of our popular KBWA Series Hybrid Drive and is a great addition to our expanding AC drive product line."
The UL approved proprietary current limit software provides motor overload protection, prevents motor burnout, and eliminates nuisance tripping. The KBWK drive offers energy savings using only the power the application requires. GFCI software allows the drive to operate with Ground Fault Circuit Interruption circuit breakers or outlets.
About KB Electronics, Inc.
Since 1967, KB Electronics, Inc. has dedicated itself to manufacturing the best AC drives and DC drives. KB designs and builds, in the United States, over 200 motor speed control models to serve the fractional to 5 horsepower market. KB's distribution includes over 800 distributor locations in over 30 countries. The Company prides itself in being able to provide customization to any of their motor drive products, thereby allowing their customers to purchase a product specific to their application. For more information on KB Electronics, Inc. please visit http://www.kbelectronics.com.
Become a fan on Facebook at http://www.facebook.com/KBElectronicsInc and follow us on Twitter at https://twitter.com/KB_Electronics.