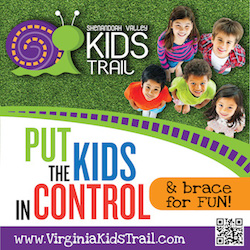 Put the Kids In Control & Brace for Fun!
Winchester, VA (PRWEB) February 28, 2014
A new mobile travel website geared toward putting kids in the driver's seat for family vacations has launched after months of planning. Kicking off a two month celebration, GoBRT (GoBlueRidgeTravel) will launch the Shenandoah Valley Kids Trail. The Shenandoah Valley Kids Trail is a partnership with Virginia Tourism to promote family travel to the Shenandoah Valley. Using both GoBlueRidgeTravel.com/KidsTrail and ShenandoahValleyKidsTrail.com, families will have easy access to activities and events making their vist to the Valley easy. Kids can fill up their buckets with fun and educational experiences here in the region before they turn 18!
To introduce the Shenandoah Valley Kids Trail, young filmmakers in grades 8 - 12 will be given the opportunity to submit short videos of kid-friendly experiences in the Shenandoah Valley and Piedmont region. The videos will be posted on You Tube and judged by a panel of film industry professionals.
The contest begins on March 10th and will culminate in 12 videos being selected to compete on the big screen at the Alamo Drafthouse Cinema in Winchester Virginia on Saturday April 19th. Entrants must have an adult sponsor and endorsement from their school. Prizes include $1000 for the student (s) with the #1 video and $1000 to the school system who sponsors them.
There are three goals for this event -
1. Celebrate the lifestyle of a child growing up in the Shenandoah Valley and The Piedmont Regions.
2. Encourage pre-teens (12 - 18) to highlight the best kid-friendly experiences in the Valley for younger children.
3. Expand the educational emphasis on filmmaking as a career option for young enthusiasts.
The Shenandoah Valley Kids Trail connects dozens of family-friendly activities across the Valley and beyond through a website engineered toward children. Tech-savvy kids and teens can pull up a map through the site that shows their location and what's around them. A map centered on downtown Harrisonburg, for example, shows the Explore More Discovery Museum, Hillandale Park, the Virginia Quilt Museum and the Residence Inn by Marriott, just to name a few.
In an interview with Kassandra Cloos of the Daily New Record on February 20th, "Let's say that they're in Harrisonburg and they've just walked out of Explore More in downtown Harrisonburg, and they've got the afternoon free," said Nancy Craun, who's leading the project and is the owner and founder of Go Blue Ridge Travel. "Visitors could go to the site and use its location features to see what else is nearby."
Tourism directors in Harrisonburg and Rockingham and Shenandoah counties are excited about what the site might mean for tourism entities across the Valley.
"We're really thrilled to be part of this," said Brenda Black, tourism director for Harrisonburg Tourism. "It's really going to expose Harrisonburg's attractions, the children's museum, events, Art in the Park and so many more amenities we have to offer as a family-friendly destination."
The site is still under development, and more locations will be added to it in the future based on feedback the creators receive. It will eventually feature many natural recreation sites, such as a hidden swimming hole few people may know about, or a particularly gorgeous hike a little bit off the beaten path.
Jenna French, director of tourism and marketing for Shenandoah County, added that it could increase tourism revenue by encouraging families to book longer stays instead of driving through or just spending one night.
"We're excited about what it can do for our county because we've always gotten calls from families coming to this area, looking for things to do," French said. "Now there's one comprehensive website to send them to and a brochure to be able to hand them that will really lay out everything there is to do within the entire Shenandoah Valley."
The Shenandoah Valley Kids Trail is a partnership between Go Blue Ridge Travel and eight leading tourism businesses in the region. These include:
Great Country Farms - Loudoun County, Va
Alamo Drafthouse Cinema - Winchester, VA
Country Inn and Suites - Winchester, VA
Shenandoah Valley Discovery Museum - Winchester, VA
The Family Drive In Theater - Stephens City, VA
Shenandoah Caverns Family of Attractions - Mt. Jackson, VA
Bryce Resort, Basye, VA
Massanutten Resort, Harrisonburg, VA.
"The amazing success of this marketing campaign is due to the power of partnering between these eight businesses," said Nancy Craun. "We are developing wonderful itinerary packages that teach families how to make their visit to the valley fun for all ages."
About GoBlueRidgeTravel.com
In 2011, GoBlueRidgeTravel.com (GoBRT), also a division of Encore Event Partners was launched to be the only Tri-State regional website showcasing the activities, events, and accommodations in the Blue Ridge Mountains and northern Shenandoah Valley. With a ten year relationship of marketing the region to brides for their wedding destinations, GoBRT is now reaching out to families branding the trademark 'GoBRT's Kids Bucket List' showcasing the experiences tots to teens should have prior to turning eighteen in the valley. In July 2013, Go Blue Ridge Travel with eight Virginia partners received a Marketing Leveraging Grant from Virginia Tourism to develop a mobi website with the target market being families. Covering Virginia, West Virginia, and Maryland, Go Blue Ridge Travel's goal is to brand this 160 mile radius as a travel and wedding destination both nationally and internationally.
Contact: Nancy Craun Founder and President GoBlueRidgeTravel.com Phone: 540.533.1853 Email: info(at)GoBlueRidgeTravel(dot)com