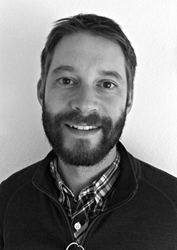 "I've been a big fan of Laci's work for years," says Emmett Soldati, a VP of Weather Analytics, "he is a true visionary when it comes to design."
Bethesda, Maryland (PRWEB) December 02, 2014
Laci Videmsky, known for his unique ability to take scientific information, particularly water rights, agronomy, and government data and make it accessible through data visualization and GUI design has joined the Weather Analytics team as a Product Architect. He will focus on designing customer-centric solutions that leverage Weather Analytics' robust weather and climate database. His role will be to navigate and translate customer needs to the product team, and help implement project vision across the Weather Analytics technology stacks – including data fusion with customers fraught with their own Big Data questions. When asked about his new position, Videmsky stated, "Much of my work in open-data and open-government has been about crafting sandboxes for innovation and inviting a diversity of voices to be part of future solutions. Becoming a part of Weather Analytics will give me the opportunity to instead explore a sandbox and to innovate among a unique, intelligent team of individuals, with whom I am honored to work"
Videmsky is a designer, technologist and educator residing in the San Francisco Bay Area featured in Wired Magazine "Interactive Atlas Highlights Water Use Issues in California" for leading the creation of the New California Water Atlas which is a free online resource that helps paint the picture of California's water resources in an open and transparent way. This website provides users with an interactive interface that allows people to understand the state's water system.
"I've been a big fan of Laci's work for years," says Emmett Soldati, a VP of Weather Analytics, "he is a true visionary when it comes to design – the products he builds, whether tools that map water rights across California, or flood zones in the Netherlands, all display a great balance between simplicity and ease of use, while at the same time pushing the boundaries of interaction. That he does it all himself, from concept to code, is remarkable."
As an architect and product designer, Videmsky has worked with NGOs and non-profit sponsored projects that promote environmental resiliency, economic revitalization, and social awareness. His work for the web has been with open-source and civic projects where, as a designer and front-end developer, he has helped to enrich the user experience.
As an educator, Videmsky is a visiting lecturer at UC Berkeley College of Environmental Design in Berkeley, CA. He holds a Masters in Architecture from the Harvard Graduate School of Design as well as a BA of Architecture from California Polytechnic State University – San Luis Obispo.
About Weather Analytics
Weather Analytics revolutionizes weather intelligence solutions using over three decades of comprehensive, statistically stable, globally gap-free weather data - producing deep historical measurements, rich indexes, and robust industry-specific solutions. For more information, visit http://www.weatheranalytics.com.