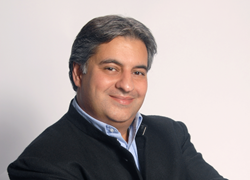 I am delighted to have the opportunity to share the critical findings and messages from the [ILTA] study with this important European audience.
Prague, Czech Republic (PRWEB UK) 15 July 2014
Rohit Talwar, CEO of Fast Future Research, is a global futurist and award winning speaker. In this fast paced and highly provocative closing keynote, Rohit will share the critical insights from ILTA's recently published Legal Technology Future Horizons study to describe the journey of reinvention law firms must embark on in the decade ahead, making his speech a perfect fit for LawTech Europe Congress, an annual event which focuses on critical digital developments driving the future of legal.
ILTA's study unveiled how technology will become central to future law firm strategy and business transformation. Rohit's speech will dive deeper into this theme, discussing the following key topics:

Critical findings on the changing commercial and legal landscape over the next five to ten years and the business implications for law firms
Emerging and as yet unseen opportunities
An overview of the ten most potentially disruptive technology developments that could transform the delivery of legal services
Key imperatives for law firm leadership as they develop future strategies in a constantly evolving digital-centric era
Core implications for the role and management of IT in tomorrow's legal enterprise.
"We are thrilled to have secured Rohit Talwar as a keynote speaker for LTEC2014," said Frederick Gyebi-Ababio, Director of LawTech Europe Congress. "His strategic insight, compelling style and keen ability to inspire ideas and questions will certainly give delegates a very lively and active session and provide the perfect 'not to be missed' forward-looking ending to our conference."
"I am delighted to have the opportunity to share the critical findings and messages from the study with this important European audience. The research highlights a perfect storm of factors reshaping the legal agenda and identifies the critical role IT can play in both responding to these forces and driving transformational change in the sector. I will highlight the strategic opportunity this represents for the legal IT function and how to fulfill the opportunity," said Rohit Talwar, lead author of the report.
About Rohit Talwar:
Rohit is the CEO of Fast Future Research and advises clients around the global on how to survive and thrive in a rapidly changing reality. He has worked, consulted, and spoken to leadership audiences in over 60 countries on six continents. His legal sector clients include Allen and Overy, Linklaters, Norton Rose Fulbright, Berwin Leighton Paisner, Simmons and Simmons, DLA Piper, Kennedy's and Wragge and Co. Other clients include American Express, Astra Zeneca, Barclays, Citibank, Deloitte, E&Y, Emaar, Etisalat, GE, IBM, Intel, KPMG, McKinsey, Microsoft, Nokia, PwC, Pfizer, SAP, Siemens, the European Commission, the OECD, international associations, and national and local government agencies, airports and tourism organisations in the USA, UK, China, India, Finland, Korea, Mauritius, Qatar, Saudi Arabia, Singapore, Turkey and the UAE.
About LawTech Europe Congress:
LawTech Europe Congress' mission is to create a cutting edge forum that addresses four core areas; digital evidence, forensic investigations, cyber security, and legal technology. These disciplines are at the forefront of organizational thinking. LTEC's guiding philosophy is to embrace solutions to empower corporations, law firms, and government institutions to limit the potential exposure to legal, financial, and reputational risks and to increase overall competence around these topics. Delegates will be engaged throughout our events with advanced topic presentations, panel discussions, practical demonstrations, and an array of latest solutions from credible exhibitors. This event strategically focuses on best practices and how they fit into upholding a high level educational structure. LawTech Europe Congress has set out to provide relevant solutions and advice to all professionals interested in the future of digital evidence, forensic investigations, cyber security, and law office technologies.