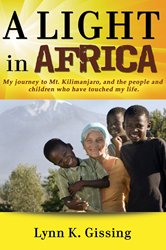 "On my visit, I found children and adults dying in such misery and stigmatization with no help being offered to relieve their suffering." - Lynn Gissing, founder of Light in Africa
Tanzania, Africa (PRWEB) February 27, 2014
Lynn Gissing, founder of Light in Africa Children's Homes, an NGO (Non-Government Organization) that provides fundamental care for vulnerable children in the Kilimanjaro and Manyara region of Tanzania, is releasing her first book, "A Light in Africa". The book chronicles Gissing's journey, telling stories that span the broad spectrum of human emotion, recounting the challenges of selling all she owns to pursue a spiritual calling; the miraculous healing of a child who could not walk; and the struggles of watching the suffering and death around her.
In Gissing's book, "A Light in Africa", she tells about experiencing the miracle of a child who was near death, dying of HIV/AIDS, who - having being prayed for, awoke from his unconscious state and is now living a normal life. The book highlights five unexplained miraculous recoveries. How she witnessed disabled children, some living in locked sheds, starving and near death. Gissing brought them to Light in Africa, the children's homes she founded, giving them food, love and care where they are now experiencing life to the fullest. Gissing shares how she has lived and worked with the Kilimanjaro Massai since arriving in Tanzania, feeding them, giving them medical aid, and educating them about the dangers of Female Genital Mutilation; something that is now discontinued in one of the communities due to Gissing's teachings and efforts.
Gissing, also known as Mama Lynn, was never a career philanthropist. Rather, she was an average woman, mother, wife and a Christian. "On my visit, I found children and adults dying in such misery and stigmatization with no help being offered to relieve their suffering. I sold all of my possessions and went to live with the 'Chagga' tribe 6,000 feet up on the foothills of Mount Kilimanjaro," Gissing says.
Gissing chronicles her journey of receiving a spiritual calling in 1999 to "go to Africa" and how by the grace of God she is now operating eight children's homes. Over the past 14 years Gissing has served over 1,565,450 meals to children in Tanzania; the outreach food kitchen operating in the mining area for vulnerable and street children has served over 728,000 meals in a ten year period. A medical outreach program has provided free medicine, medical and health treatments to the poor who are unable to access any medical treatment and to date over 210,000 have received medical aid.
Gissing's book, "A Light in Africa" will be available online at Amazon, Barnes and Nobel as well as on Light in Africa's website http://www.LightInAfrica.org and other major online retailers.
Tanzania is home to roughly 2.5 million orphaned children. Over the last fourteen years Light in Africa organization has provided basic fundamental care for vulnerable children in the Kilimanjaro and Manyara region. They provide services such as medical assistance, financial aid, a food kitchen, disability outreach, and schooling along with providing school supplies. They also provide financial support for vocational training, educational seminars focused on educating the community with regard to HIV/AIDS and other related topics as well as operating eight children's homes.
More information about Light in Africa visit lightinafrica.org. Follow Light in Africa on Facebook at: http://www.facebook.com/thelightinafrica and on YouTube at: http://www.youtube.com/channel/UCf10RiaqA9sow7d8VGq6EgQ. Lynn Gissing "Mama Lynn" will be traveling to California in April 2014 and will be available for interviews and speaking engagements.
For media inquiries, interviews or speaking engagements, please contact Kelly Bennett at Kelly(at)BPUnlimited(dot)com.
Kelly Bennett, Bennett Productions Unlimited
(949) 463-6383
Kelly(at)BPUnlimited(dot)com
bpunlimited.com
@KellyBPU