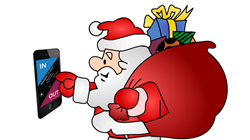 McLean, VA (PRWEB) December 18, 2014
Sphere of Influence, Inc., is pleased to announce that LMK App will be available between now and Dec. 24, for people interested in determining where exactly they sit on the famous Naughty or Nice List used in the North Pole. A quick LMK message returns an (IN) if the name is on the Nice List and an (OUT) for those on the Naughty side of the ledger.
The best part is the multitude of misunderstood Naughty can still make amends and get back on the Nice List before it's too late. All it takes is performing a few good deeds before Christmas Eve to get back on the Nice List.
The North Pole based Public Relations Department responsible for the largest single night of package and gift deliveries stated that managing the ever burgeoning list of eligible boys and girls is daunting. Christmas Eve delivery becomes harder and harder with billions of children to consider, and the LMK app makes it easier to quickly determine who is Naughty (OUT) and who is Nice (IN). The added feature of running in real time, allows kids who are trying their very best to be good, to squeak in at the last moment and still find a present under the tree.
Using mobile technology, the sleigh based mobile app can dynamically change the delivery route at the last second, cutting previous delivery time by over 23%.
View more details on how to get in touch with Santa here.
Sphere of Influence, Inc, is a leading developer of lifestyle, social, and entertainment Smartphone apps, including PubRally ™. LMK App is available for download for android phones and iPhones. For quickest links to download the app for most devices, visit: http://www.lmkapp.net.
Like us on Facebook: https://www.facebook.com/LMKApp