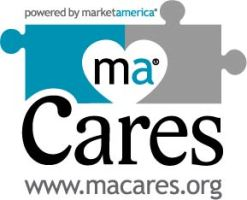 (PRWEB) July 30, 2014
ma Cares is getting a big boost from several area restaurants in conjunction with Market America|SHOP.COM 2014 International Convention.
Between Wednesday, August 6 and Sunday, August 10, eleven restaurants in the greater Greensboro area – Ruby Tuesday, Carter Brother's Barbecue, Café Pasta, Great Harvest Bread Company, Stamey's Barbeque, Lone Star Steakhouse & Saloon, Chili's Bar & Grill, and Outback Steakhouse – will make donations to ma Cares to support its worthwhile initiatives. The restaurants will make a donation to ma Cares when patrons mention ma Cares by name.
"We are delighted that Market America's 2014 International Convention will bring thousands of people to the area to patronize local businesses," said Brandi Quinn, President of ma Cares. "We so appreciate that a number of these establishments are generous enough to support the work ma Cares does here in the community and we hope many Greensboro residents will join us in making a difference simply by having a meal at one of these eateries."
The area restaurants participating in the ma Cares benefit include:

Ruby Tuesday (three Greensboro locations):
Deep River Corporate Center, 7611 Thorndike Road (336-841-0066)
Four Seasons Mall, 280 Four Seasons Town Center (336-315-9877)
4218 West Wendover Avenue (336-294-4344)

Carter Brother's Barbecue (two Triad Area locations):
3802 Samet Dr High Point, NC 27265 (336-841-2241)
2305 N Main St High Point, NC 27262 (336-869-9948)

Café Pasta – 305 State St Greensboro, NC 27408 (336-272-1308)
Great Harvest Bread Company - 2715 Grandview Ave. Greensboro, NC 27408 (336-855-3853)
Stamey's Barbeque – 2206 High Point Rd Greensboro, NC 27403 (336-299-9888)
Lone Star Steakhouse – 3025 High Point Road (336-855-1228)
Chili's – 3024 High Point Road (336-852-0100) (August 8 and 9 only)
Outback Steakhouse – 2105 Four Seasons Boulevard (336-294-5456) (August 9th only)
ABOUT MA CARES
ma Cares is a 501c3 organization that exists to celebrate and improve the quality of life for children, families, veterans and animals. It all began more than a decade ago, and has truly blossomed, thanks to support from businesses and individuals. Since its inception in 1998, ma Cares has assisted dozens of organizations. Currently, ma Cares supports five charitable efforts: Earlier.org, Pathways Center, Kids of Childhood Cancer, Red Dog Farm Animal Rescue Network, and its own program to assist veterans and military troops – Faith Cares.
For more information: http://www.macares.org
ABOUT MARKET AMERICA, INC. & SHOP.COM
Market America, Inc. is a product brokerage and Internet marketing company that specializes in One-to-One Marketing. Its mission is to provide a robust business system for entrepreneurs, while providing consumers a better way to shop. Headquartered in Greensboro, NC, the company was founded in 1992 by President and CEO JR Ridinger and has generated $4.3 billion in accumulated sales. Market America employs nearly 700 people globally with operations in the United States, Canada, Taiwan, Hong Kong, Australia, United Kingdom and Mexico. Through the company's shopping website, SHOP.COM, consumers have access to over 40 million products, including Market America exclusive brands and thousands of top retail brands. By combining Market America's entrepreneurial business model with SHOP.COM's powerful comparative shopping engine, Cashback program, Hot Deals, ShopBuddy™, social shopping integration and countless other features, the company has become the ultimate online shopping destination.
For more information about Market America|SHOP.COM United States, please visit http://www.marketamerica.com or http://www.SHOP.COM.