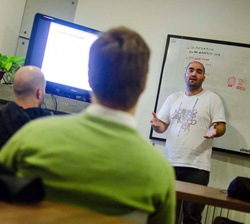 We are very proud to be sponsors of one of the most important UX events in LatAm.
San Antonio, Texas (PRWEB) October 28, 2014
Next November 19-22, the Interaction South America 2014 (ISA) will be held in Argentina, at Universidad Católica Argentina, in Buenos Aires. Making Sense is proud to announce they will sponsor this important UX event.
This represents a huge event for the Latam UX community. The duration of this conference will be of four days and will count with the presence of national and international specialists, who will deliver talks and share their knowledge with the audience.
Making Sense always tries to have a great participation and growth in the local and Latin-American UX community. And they do so by collaborating in different ways.
Some members of the Making Sense UX team, together with other members of the company, are currently teaching in many educational institutions of our country. By exposing and sharing their own experiences, the generation of future designers and developers will have a more suitable idea of the market, of the technologies, and of the relevance of the user-centered design and thus, they will be able to create better future experiences.
One of their Project Managers, Silvia Vassolo, leads the UX Research Group and teaches at CAECE University in Mar del Plata. One of the subjects she teaches together with another colleague is focused on the Users' Experience and is included in the Engineering, Computer System and Graphic Design course of studies.
Moreover, Santiago Tribiani, one of our UX Designers and UxPA member, teaches Web Design and UI Development at CAECE University in Mar del Plata for students in the second year of their Graphic Design course of studies.
Another member of Making Sense who is teaching Web Development at the Universidad Abierta Interamericana in Buenos Aires is Noelia Franco. Some of the new technologies she includes in her lessons are HTML5, CSS3, Node.js, Mongo DB and Backbone.js, among others.
Making Sense's Head of UX & Design, Lisandro Martinez Basabilvaso said: "We consider it is really important not only to be part of the UX community by participating in different events, but also by getting involved in the education field."
Lisandro is currently conducting a UX and Usability Seminar at FASTA University in Mar del Plata. Among the many topics of the seminar, User Tasting, Usability and UI Design can be highlighted as the main ones.
Currently, part of their UX team is also involved in the IxDA, a global network of professional designers that offers a free-of-charge membership. With more than 60,000 members and over 150 local groups around the world, the IxDA network actively focuses on interaction design issues for the practitioner.
For the first time, the Interaction South America 2014 will be held in Argentina. This represents a huge event for the Latam UX community. Keynote speakers will be present such as Kendra Shimmell, Managing Director at Cooper, Steve Portigal, Principal at Portigal Consulting and Jeff Gothelf, Principal at Neo.
Making Sense is highly interested in the UX concept, and one of their main features
is that not only the projects they engage in, but also their software and apps, count with an
excellent UX.
About Making Sense
Making Sense is an IT company that has specialized in the development and implementation of software and web applications for different companies since 2006. It has over 130 employees who work in different offices located in the United States, Argentina and Mexico.
The company offers the latest software development strategies, and has many worldwide partners. Some of its most prominent clients include Rackspace, DELL and AMD. Making Sense is well-known for including Doppler™, the most widely used email marketing tool in Latin America, which allows users to create, send, analyze and optimize email marketing campaigns very simply, quickly and effectively. And Lander™, a software tool that enables the creation of professional landing pages in minutes and reaches active users in more than 132 countries worldwide.
In recognition of its valuable work in fostering ArgenTIna IT outsourcing to the U.S., Making Sense received a special mention at the Polo IT Buenos Aires event in December 2012 and was chosen as the national representative of the United States ArgenTIna IT office in Austin, Texas.
Consistently demonstrating a high degree of technical excellence, Making Sense is passionate about maintaining strong commitments to offering outstanding service and quality custom software products.
In 2013, two products developed by Making Sense were nominated to the prestigious Sadosky Awards: VidTac (developed by Making Sense for COPsync) gives police department patrol cars high definition video capability while cutting equipment costs. It was developed through joint collaboration with COPsync, which operates the nation's largest real-time information sharing, communication and data interoperability network for law enforcement agencies.
The prestigious Sadosky Awards are bestowed each year by CESSI, The Chamber of Software and Computer Services of Argentina, in honor of Manuel Sadosky, an illustrious scientist widely regarded as the father of the Argentinian computer science profession. They celebrate and honor excellence and innovation in the Argentinian software industry. Making Sense is pleased and honored to announce that its product Lander won the 2013 Sadosky Award in the category of Best Information Entrepreneurship Product and was also recognized by Awwwards winning "The Site of the Day" and "Developer Award" for the most useful, innovative, and responsive website development project.