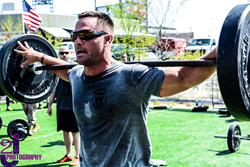 "It is incredible to see so many people come out and challenge themselves mentally and physically in honor of true American heroes."
Philadelphia, PA (PRWEB) May 02, 2014
Honor the fallen by challenging the living. More than 600 athletes did as the Travis Manion Foundation's (TMF) tagline suggests, and honored fallen Marine 1st Lt. Travis Manion by completing the challenging "Manion" workout of the day (WOD) at the 2014 Travis Manion Memorial WOD event held on Saturday, April 28th. More than 100 participants attended the main Memorial WOD event held at XFINITY Live! in Philadelphia and over 500 people participated in smaller events at gyms across the country.
1st Lt. Travis Manion made the ultimate sacrifice in the Al Anbar province of Iraq when he was fatally wounded by an enemy sniper while aiding and drawing fire away from his wounded comrades. His selfless actions allowed every member of his patrol to survive. He was awarded the Silver Star and Bronze Star with Valor for his actions.
The workout was created based on the numbers in the date of Travis' death- 4/29/07- and includes a 400 meter run and 29 squats repeated in 7 rounds. The 2014 Manion Memorial WOD was held just a few days before the seventh anniversary of his death.
"It is incredible to see so many people come out and challenge themselves mentally and physically in honor of true American heroes," James Brobyn, Chief Advancement Officer of the Travis Manion Foundation said. "People are looking for a way to honor the men and women who have made the ultimate sacrifice for our country. The Crossfit community, The 31Heroes Project and Civilian Military Combine came together with us to enable people to do just that while also raising funds to support the families that our heroes leave behind. The event was not just about honoring Travis, but honoring all of our nation's fallen heroes."
The 2014 Manion Memorial WOD was organized by Civilian Military Combine (CMC) and The 31Heroes Project. All proceeds from the Manion Memorial WOD benefited the Travis Manion Foundation, a non-profit organization that assists veterans and families of the fallen and honors the legacies of our nation's fallen heroes.
To learn more about the Travis Manion Foundation, visit http://www.TravisManion.org.