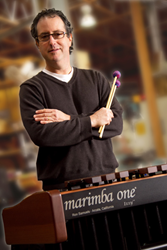 Our endless quest for the most musical and beautiful sounding marimba leads to the marimba one Izzy™.-- Ron Samuels, Founder, Marimba One
Arcata, CA (PRWEB) April 25, 2014
Named after company founder Ron Samuels' son, the marimba one Izzy™ offers the most musical, durable and easy-to-use marimba in the market.
The marimba one Izzy™precision-balanced bar and resonator acoustics derive from decades of design and engineering refinements. Musicians work together with craftsmen to discuss how the marimba should sound. That is what Marimba One calls 'voicing' and it provides musicians with maximum flexibility for getting their particular sound out of the instrument.
Introducing a new frame and rails made of wood and aluminum, the marimba one Izzy™ is equipped with a streamlined height-adjustment system for superb ergonomics, ideal for performers of different performing styles. The system incorporates a positive locking mechanism with built-in tape measures so the player can position the marimba exactly to his or her liking.
The use of US-grade aluminum maximizes the marimba one Izzy™'s durability for assembly, dismantling and transport, ideal for schools and performers. It also gives the instrument a smart, contemporary look.
Samuels calls the marimba one Izzy™ "historic" in Marimba One's ongoing development.
"The marimba one Izzy™represents a grand synthesis of our latest ideas and our 30 years of experience in research, development and engineering," he says. "Our emphasis all along has been on voicing—ensuring that from the highest note to the lowest, the instrument sounds warm, deep and evenly balanced across the range of the keyboard."
Samuels adds, "We've perfected balanced voicing with ongoing refinements in both our keyboard bars and the resonators. Through subtleties of tuning and our in-house discoveries of how high-end engineering can greatly improve resonator sound, we know exactly what works and what doesn't. Our endless quest for the most musical and beautiful sounding marimba leads to the marimba one Izzy™."
Reached by telephone in Santa Fe, where he is completing his studies at St John's College, a Great Books and liberal arts college, Ron Samuels' son Izzy was asked what it felt like to have one of the best marimbas in the world carry his name. "I hope that in the future I can live up to it – and that at some point, in some way, I can as revolutionary as my father."