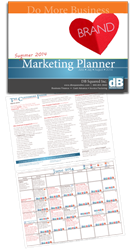 We want to help our clients avoid the summer sales slump so common in many industries.
Seattle, WA (PRWEB) May 22, 2014
Due to the popularity of its spring publication, DB Squared has now announced a second marketing calendar giveaway by making a complimentary 2014 Summer Marketing Calendar including hundreds of promotion ideas and a calendar of activities laid out for the months of June, July and August 2014.
This is the second small business marketing download that the company has released this year, and is a companion piece to their previously-released summer restaurant marketing planner.
DB Squared marketing manager Elizabeth Kraus explains that the marketing calendar downloads have been developed as an organic extension of the company's mantra of helping its clients grow their organizations to the next level.
"Many of our clients specifically choose to use our invoice factoring and business cash advance financing tools in order to access working capital needed to grow their business more quickly. By giving away business-building resources like the marketing planners, we help them identify low-cost promotional tactics they might not have known about, that can help them grow even more quickly."
The marketing planner offered by DB Squared is an expanded excerpt from the full 2014 Small Business Marketing Calendar published by Kraus on amazon.com. To access the complimentary download for the summer 2014 marketing calendar, individuals simply need to subscribe to DB Squared email updates before June 30, when the summer marketing planner will be archived.
For many businesses, revenues that hold steady during other months of the year become irregular during summer months, largely due to personal summer vacation and travel plans. This phenomenon is not exclusive to retailers, as business buyers are also among those whose summer travel plans can disrupt the buying cycle and delay sales for B2B organizations.
"We want to help our clients avoid, or at least minimize, the summer sales slumps that affect many industries. For a business that doesn't have a summer marketing plan in place, this download could be a lifesaver," Kraus notes. "The tactics laid out in our summer marketing calendar are those most likely to keep a brand top of mind with consumers and to help them get found more often in online searches."
***
About DB Squared
DB Squared Inc. is a privately held business financing company offering invoice factoring and business cash advance financing.
Approaching its 5 year anniversary, the company's staff has more than 100 years combined business financing experience and also enjoys the strong foundation provided by its parent company, a private consumer finance organization in its 30th year. More information about DB Squared is available on their website at http://www.dbsquaredinc.com.