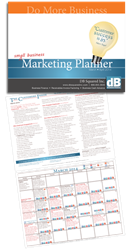 We want to help our clients grow their business from where it is today, to where they want to be tomorrow.
Seattle, Washington (PRWEB) February 22, 2014
DB Squared has announced that a complimentary small business marketing planner will be available for download to email subscribers through March 1, 2014. The planner is an expanded excerpt from Amazon-published author Elizabeth Kraus' 2014 Small Business Marketing Calendar.
To download the March-April marketing planner, individuals simply need to subscribe to email updates from the company. After subscribing, they are immediately taken to a page where they can download the marketing planner as a PDF. Business finance company DB Squared plans to keep this resource available for download through the first of March; depending on whether clients find it useful, another two month planner may be published for May-June 2014.
"While we specialize in helping small businesses access the working capital they need to grow, we know that money is only part of the challenge for small business owners," said DB Squared Vice President Tom Glazier. "The marketing ideas in our planner are perfect for small businesses. Most of the marketing tactics only require time (not money) to implement, and they can help a local independent business bring in new customers and grow their organization."
The marketing planner is based on the design Kraus uses in all of the calendars she publishes for small businesses, salons, restaurants and other niche industries. Geared for small to mid-sized business use, the planner seeks to present best practices for web, social, mobile and content marketing in the form of actionable, easy to understand and easy to implement tactics that even non-tech savvy marketers can master. Ideally the marketing ideas in the planner will help any small business market itself more effectively and grow by attracting new customers and closing more sales.
"When DB Squared brought me on board last year as their marketing manager, I immediately saw that my passion for helping small business owners grow their businesses with low to no-cost marketing tactics was aligned with DB Squared's mission of helping their clients grow their organizations to the next level," stated author Elizabeth Kraus. "I am really pleased to be able to make this resource available as a give-away to small business owners and the marketing staff."
Images: Marketing Planner Cover; Cover plus Page View
About DB Squared
DB Squared Inc. is a privately held business financing company offering invoice factoring and business cash advance financing. Approaching its 5 year anniversary, the company's staff has more than 100 years combined business financing experience and also enjoys the strong foundation provided by its parent company, a private consumer finance organization in its 30th year. More information about DB Squared is available on their website at http://www.dbsquaredinc.com.
About Elizabeth Kraus
Marketing planner creator Elizabeth Kraus, DB Squared marketing manager, is a published author and speaker on small business marketing and leadership whose work includes annual marketing calendars written for small business, restaurants, salons and dentists, as well as general marketing books including 365 Days of Marketing and 12 Months of Marketing for Salon and Spa.