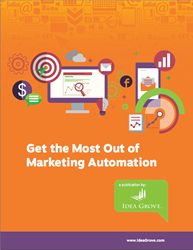 As a certified HubSpot agency partner that serves clients across multiple marketing automation platforms, we understand the hard-dollar benefits that marketing automation brings to clients.
Dallas, Texas (PRWEB) November 30, 2014
Idea Grove, an integrated PR and marketing firm specializing in enterprise technology clients, recently published an eBook explaining how to make marketing automation work for your company. Aside from outlining the basics of marketing automation, this eBook also shares advice for building and executing a strategy in five steps.
"As a certified HubSpot agency partner, we understand the value marketing automation provides to companies of any size in any industry," said Scott Baradell, Idea Grove president and founder. "Right now, there's no better way to reach the right leads at the right time and offer them content that will help nurture them through the sales funnel."
Below are a few marketing automation statistics from the eBook:

59 percent of companies with marketing automation are able to use intelligent targeting to trigger content, compared with 17 percent without
54 percent of companies with marketing automation capture intelligence for their sales teams, compared with 25 percent without
49 percent of companies with marketing automation customize content to their buyer journey stages, compared with 21 percent without
45 percent of companies with marketing automation regularly repurpose content for efficiency, compared with 28 percent of companies without
"If PR and marketing professionals invest in one tool, it should be a marketing automation platform," Baradell said. "If you don't have a plan in place for proactively reaching out to leads and prospects, you're losing business."
About Idea Grove
Idea Grove, a Dallas-based public relations and inbound marketing agency, helps enterprise technology companies reach media and buyers by combining proven PR strategies with a proprietary digital marketing system. The agency creates custom public relations and inbound marketing programs for its roster of national B2B technology clients, which range from Fortune 500 companies to high-growth, venture-backed startups. Idea Grove drives brand awareness, online engagement, and sales conversion by integrating public relations, social media, search marketing, content creation, web design, and conversion rate optimization in an efficient, scalable system.