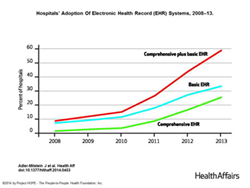 The data shows that hospitals are on the road to robust health care IT adoption, but a long journey remains.
Chicago, IL (PRWEB) August 28, 2014
Data from the American Hospital Association's 2013 Annual Survey IT Supplement shows that while most hospitals utilize a basic electronic health record (EHR) system, more advanced use of health care information technology is still a challenge.
This data is featured in an article in the August issue of Health Affairs, and is co-authored by Peter Kralovec, executive director of Health Forum's Health Care Data Center, as well as Chantal Worzala, director for policy at the AHA. According to the data:

59 percent of hospitals have a basic or comprehensive EHR system (quadruple the figure from 2010).
Nearly 26 percent of hospitals have a comprehensive EHR system (more than quintuple the figure from 2010).
While the majority of hospitals can meet many of the Stage 2 Meaningful Use requirements, only 5.8 percent of hospitals are able to meet all of those criteria.
Beginning in fiscal year 2015, hospitals and health care facilities will be penalized for not meeting these requirements. Stage 2 Meaningful Use requirements stem from the Health Information Technology for Economic and Clinical Health Act, which was passed in 2009. It provided $30 billion to promote "meaningful use" of EHRs through the Medicare and Medicaid EHR Incentive Program, which have progressive stages for advanced use of EHRs. Stage 2 Meaningful Use include 16 core objectives, such as the ability of patients to view and download their health information, as well as the ability of hospitals to transmit health information between facilities, such as a skilled nursing center and a hospital. For more information on Stage 2 Meaningful Use, click here.
"The data shows that hospitals are on the road to robust health care IT adoption, but a long journey remains," says Kralovec. "With financial penalties now being levied against hospitals that do not meet Stage 2 requirements, the onus is on both hospitals and IT vendors to ensure that patients can use technology to access their health information and transfer their health records easily from provider to facility."
"AHA Data is the data source that hospitals and health systems rely on for vital information regarding the hospital field," says Amy Mosser, chief development and operating officer of Health Forum. "The respect health care leaders have for our data is evidenced by the fact that this important piece of research is published in a prestigious health care journal such as Health Affairs."
About Health Forum
Health Forum is a strategic business enterprise of the American Hospital Association, creatively partnering to develop and deliver essential information and innovative services to help health care leaders achieve organizational performance excellence and sustainability.
About the American Hospital Association
The AHA is a nonprofit association of health care provider organizations and individuals that are committed to the improvement of health in their communities. The AHA is the national advocate for its members, which includes nearly 5,000 member hospitals, health systems and other health care organizations, and 43,000 individual members. Founded in 1898, the AHA provides education for health care leaders and is a source of information on health care issues and trends.
-30-