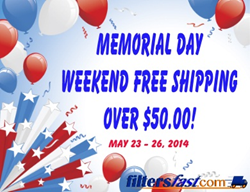 FiltersFast.com is offering no-cost shipping on all orders over $50 when placed between May 23 and May 26, 2014.
Charlotte, NC (PRWEB) May 23, 2014
Filtersfast.com, the leading online retailer of water filters and air filters announces a special Memorial Day Weekend Free Shipping offer on all purchases over $50 on May 23 -26, 2014. This offer happens to coincide with the PUR water filtration products promotion in which customers will save an additional 5% on all PUR products as well.
Filtersfast.com offers a huge selection of in-home and commercial air and water filtration products. You will find a wide range of replacement filters and filtration systems. Product selection includes refrigerator filters, water pitchers and bottles, sink mount filters, under-sink filters, whole house systems, humidifiers and filters, pool and spa replacement filters, and AC and furnace air filters. Brands offered include PUR, 3M, Brita, Filtrete, GE, Whirlpool, Honeywell, Trane, Hunter, LG, Culligan, and the Filters Fast brand of air filters.
Since 2004, Filtersfast.com remains committed as the authoritative resource for consumers regarding the importance of changing residential and commercial water filters and air filters on a regular basis. Helping consumers understand the importance of regular water and air filtration maintenance is part of the company's mission statement. By saving customers time and money, they simplify a sometimes mundane, but very necessary task. The company strives to add to their customer's overall quality of life by offering first-rate products at the best competitive prices. For more information regarding their Memorial Day Weekend Promotion, along with their large assortment of refrigerator filters, water filters, air filters, humidifier, pool and spa filters, or featured promotional products, visit http://www.filtersfast.com or call their Customer Experience Department at 1-866-438-3458.