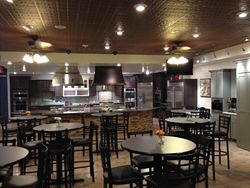 Wichita, KS (PRWEB) April 24, 2014
Metro Appliances & More recently opened the Metro Experience Kitchen, a 3,500-square-foot, state-of-the-art kitchen with live appliances and seating for up to 50 people. The new demonstration kitchen is used to show customers the benefits of many unique products, including the award-winning Galley Sink, the Miele built-in whole bean coffee system, the Dacor wine station, Perlick's Signature Series indoor stainless steel beer dispenser, and the Thermador induction cook top.
Metro Appliances & More will be offering various cooking demonstrations hosted by local Wichita chefs. The kitchen is also available as a venue for small dinner groups and private parties.
Employee-owned Metro Appliances & More was originally formed as Metro Builders Supply in 1974 by Nick Stavros of Tulsa, Okla. Stavros began the company selling appliances out of his garage to builders. The company is celebrating its 40th anniversary in 2014. For more information, visit our websites MetroAppliancesAndMore.com and MetroOutdoorLiving.com.