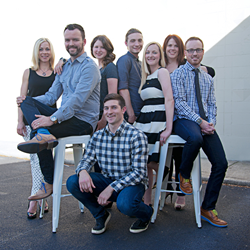 I couldn't be any more excited to watch our team continue to grow and gel.
Indianapolis, IN (PRWEB) July 15, 2014
Indianapolis branding firm Miles Design announced five recent hires, adding a production manager, two designers, a web designer/developer, and summer design intern to their award-winning team.
As production manager, Amy Dean manages internal resources, traffic flow, and developing relationships with vendors. She is responsible for process improvement and production evaluation. Amy has worked for several Indianapolis advertising and marketing agencies, including Quinlan Marketing and Three-Sixty Group, and she most recently served as Print Production Manager at Mortensen Safar Kim.
Stacey McClure, designer, was most recently at Publicis, where she was a Junior Art Director. She joins the design team in the creation of branding, responsive website design, and advertising. Stacey is a native of Marion, Indiana and a graduate of Ball State University.
Allen Pieper joins the Miles Design team as its first UI/UX hybrid web designer/developer. He is a native of Brooklyn, Indiana, and most recently worked at TrendyMinds. He is responsible for front- and back-end development, as well as responsive web design, performance, and accessibility. Allen is a graduate of IUPUI.
Theresa Behrens joined Miles Design as a Junior Designer. She is from South Bend, Indiana and a recent graduate of the University of Dayton where she worked at the student run apparel shop, Flyer Spirit. Theresa's duties will include branding, print, and website design.
Miles Design summer intern, Abby Sells, is about to begin her senior year at Taylor University. Abby will take part in branding, print, and website projects, and is eager to learn more about the design world. Abby is originally from Upland, Indiana.
"As we grow, finding the people that fit just right is absolutely paramount. Each of these new hires add depth and excitement to our expanding team," said Miles Design founder, Josh Miles. "I couldn't be any more excited to watch our team continue to grow and gel."
About Miles Design
Miles Design is the premier provider of branding, strategy, and design for professional services firms. We are passionate about building brands that deliver. From our office on Monument Circle, we help professional services firms, nonprofits, and startups from coast to coast build stronger brands and stand out uniquely in the marketplace.