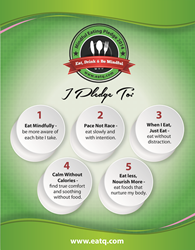 Changing your diet doesn't have to be so hard. Just do these 5 things to be a more mindful eater.
Cleveland, Ohio (PRWEB) January 15, 2014
"Mindful eating is about consuming food with more conscious awareness," said Susan Albers, a clinical psychologist at the Cleveland Clinic and author of the new book, "EatQ: Unlock the Weight Loss Power of Emotional Intelligence," and the books "50 Ways to Soothe Yourself Without Food" and "Eating Mindfully."
Eating mindfully prevents "autopilot eating" such as mindlessly popping chips into your mouth while watching TV, eating at mealtimes whether you are hungry or not and consuming comfort foods to ease stress. In EatQ, Albers shares 25 tricks for coping with food cravings and skillfully navigating the incredibly complex relationship between emotions and food choices.
You can stop stress eating and make healthier food choices by taking the "Mindful Eating Pledge." Here are five important behavioral steps you can take to significantly improve your eating habits today:
1. Eat mindfully: I will be more aware of each bite.
2. Pace, not race: I will eat slowly and with intention.
3. When I eat, just eat: I will eat without distraction.
4. Calm without calories: I will find true comfort and soothing without food.
5. Eat less, nourish more: I will eat foods that nurture my body.
Changing your eating habits is not an easy task. However, doing it with intention and a smart strategy can make it simpler and within reach.
"Like" Dr. Albers' fan page on facebook.com/eatdrin kmindful to receive updates on events, information and giveaways.
To learn 25 smart, action oriented tools for coping with comfort eating and stress eating, see Dr. Albers' book, Ea tQ.