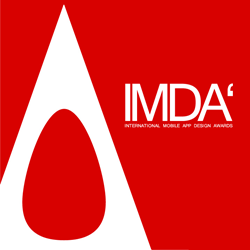 Best mobile applications will be highlighted.
Como, Italy (PRWEB) March 03, 2014
A' Design Award & Competition announced the call for entries to the Annual International Mobile Application Design Awards (IMDA) which will recognize outstanding mobile applications that benefit society through new levels of functionality, productivity and utility. Application developers worldwide are invited to submit their best application designs regardless of their platforms, operating systems or designated devices. IMDA is open to entries of all applications by developers, vendors, creative directors, brand managers, PR agencies, operators, content providers, coders and designers worldwide.
Entries to the Annual International Mobile Application Design Awards will be evaluated by an expert jury panel of press members, design professionals, scholars and entrepreneurs who have an understanding of design from editorial, aesthetic, academic and marketplace perspectives. Entries to the IMDA will be voted on criteria such as functionality, creativity, aesthetics, accessibility, fun factors, productivity, innovativeness, interface design, originality and usability. The decision of the jury shall be final.
There will be five different award levels: Platinum, Gold, Silver, Bronze and Iron awards will be distributed. Best application designs will be given the Platinum A' Design Award. Award winning application designs will have their descriptions translated to more than twenty languages in order to launch an international PR Campaign. Winners will receive complimentary press release preparation and distribution service to reach thousands of publications worldwide. Laureates will also receive the special 3D printed metal award trophy, the certificate for design excellence, the yearbook of best designs as well as an exclusive invitation to the gala-night and award ceremony in Italy. Award winners will also be able to use the "Award Winning Application Design" logo and graphics as a part of their communication and marketing.
Entries to the Mobile Application Design Awards can be made online at http://www.adesignaward.com where further information regarding the accolades including entry forms, submission guidelines, evaluation criteria and list of jury members could also be found. Deadline for Entries to the Mobile Application Design Awards is on March 30, 2014. Results will be announced on April 15, 2014.
About the International Mobile Application Design Awards
The International Mobile Application Design Awards were created to celebrate the best mobile applications and games that create benefits to society by enabling users to be more productive, creative or happy. The goal of the IMDA awards program is to highlight best mobile applications regardless of their platforms and to create an incentive for worldwide application developers, designers and coders to come up with superior application designs.
About A' Design Award & Competition
The A' Design Award & Competition provides a unique opportunity for all industrial & creative sectors to achieve international recognition for their outstanding designs that demonstrate ingenuity, creativity, innovation and quality. A' Design Award & Competitions were established to support and spotlight innovative designers and companies who benefit society through their superior product designs that help people achieve more. The ultimate aim of the A' Design Award is to engender an appreciation for design in all countries, supporting design profession and professionals worldwide. Learn more at http://www.whatisadesignaward.com.