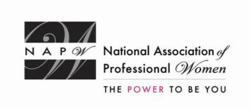 My technical expertise is in financial sector supervision.
Garden City, NY (PRWEB) February 25, 2014
NAPW honors Barbara Baldwin as a 2013/2014 Professional Woman of the Year for leadership in the finance industry with this prestigious distinction. As the largest, most-recognized organization of women in the country, spanning virtually every industry and profession, the National Association of Professional Women is a vibrant networking community with over 600,000 members and nearly 400 Local Chapters.
"My technical expertise is in financial sector supervision," says Ms. Baldwin, who worked for a decade as a supervisor with the Federal Reserve System before joining the International Monetary Fund. As a seasoned expert with over 28 years of experience in the financial industry, Ms. Baldwin manages multimillion dollar, multi-year donor-financed technical assistance projects to aid international organizations in promoting growth and reducing poverty.
As a Deputy Division Chief in the Monetary and Capital Markets and Statistics Departments at the IMF, Ms. Baldwin has administered technical assistance, advice and training to central banks around the word with her knowledge of project and budget management, recruitment, personnel management and central banking expertise. With her keen talent in financial systems oversight, Ms. Baldwin accomplishes the Fund's mission of providing its 188 member countries with the proper tools necessary to achieve their economic goals and strengthen the operations of their institutions.
Ms. Baldwin looks forward to spending more time working with central bank counterparts to address their challenges and further assist them in reaching financial prosperity before her retirement. "I'm considering a transition into consulting, and the networking and other opportunities through NAPW will be very helpful in that regard," she says.
NAPW provides an exclusive, highly advanced networking forum to successful women executives, professionals and entrepreneurs where they can aspire, connect, learn and achieve. Through innovative resources, unique tools and progressive benefits, professional women interact, exchange ideas, advance their knowledge and empower each other.