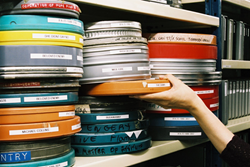 Movienr is designed both as a platform for exchanging your cinematic taste and a resource for enhancing your movie experience.
Istanbul, Turkey (PRWEB) July 24, 2014
Spending hours to find what to watch maybe history with Movienr.com from now on. The concept is simple: Instead of staying for hours finding something good, movie addicts can process a deeper research by using the Movienr filters and features. The comfort zone of Movienr serves its users diverse possibilities to discover new movies to watch.
Any movie addict can use Movienr's Movie Discovery features without signing up. However, a user with a free registered account can use all features of Movienr. Movienr gives its users the ability to search for movies by genre, theme, place, period, origin as well as exploring highlighted sections like new and coming soon. Using sliders, the users can easily select the year range and how the movie is rated.
There are 14 main genres and 48 theme selections including Alien, Animal, Biography, Concert, Disaster, Dystopia, Family, Fugitive, Genius, Mafia, Mental Illness, Music, Mystery, Novel, Politics, Racing, Racism, Revenge, Road Trip, Serial Killer, Sport, Superhero, Time Travel, True Story, Vampire, War, Western and Zombie.
Enough? Not for Movienrs. Users can choose place and period: Desert, High School, Island, Jungle, Mountain, Office, Prison, Room, Water, Small, Town, Space, Suburban, Underground, University, Prehistory, Ancient Ages, Middle Ages, 1800s, World War I, World War II, Civil War, Cold War, '60s & '70s, '80s, '90s, Future, Apocalyptic and Post-Apocalyptic.
For additional discoveries users can also specify a continent or a country from all over the world. Any user may also see how many "Asia" or "France" movies she/he has seen by the time.
Personal Movie Recommendations
Movienr users can check, like, add (to watchlist), rate movies and define their favorite stars. These features help users either to create their movie memories or to get accurate movie recommendations. When a user checks movies as seen, likes or rates; Movienr's smart Recommendation Algorithm starts to learn about her/his movie taste and makes accurate movie recommendations. A new Movienr user starts to get recommended in 24 hours after making her/his first movie check.
Social Networking: Sharing Posts. Leaving Comments. Following & Getting Followed.
Movienr gives its users the chance of socializing via movies and movie stars. Users may share comments, reviews and images about movies and movie stars. Users with similar movie tastes may also follow each other.
What does a Movienraphics look like?
A Movie Infographics (Movienraphics) is produced from a user's seen movies' genres percentages, most seen directors & stars, and most seen movie themes. With this particular infographics the user is able to rapidly see which type of movies she/he wants probably the most. It's an interesting method of showing a person's movie interests nevertheless The user can share it with friends on Facebook and Twitter.
Feed: Shared Experience Unique to Cinephiles
According to a YouGov survey, 46 percent of respondents stated that personal recommendations helped them decide which movie to watch. The statistic presents data on the factors influencing moviegoing decisions in the United States as expressed in April 2013.
"That's the reason why Movienr.com is designed both as a platform for exchanging the movie addicts' cinematic taste and a resource for enhancing people's movie experience," the developers say. Movienr serves its users some fresh and original ways to spice up their "Movie Time" efficiently. Use it.