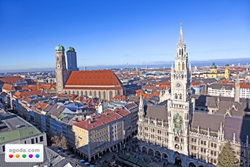 Munich's Spring Festival is smaller and less crowded than Oktoberfest, but still a great way to experience the best the city has to offer.
Singapore (PRWEB) March 19, 2014
The festival, sometimes called the Little Oktoberfest (Kleine Wiesn in German), is an example of the German habit of celebrating…well, anything. Some nice weather, a few large tents, a bit of music – and of course, plenty of beer – is all that's needed. Suddenly it's time to party. Held in the same location as the more famous and much busier Oktoberfest, the Spring Festival is a gentler and less crowded introduction to traditional German music, food, drink, and culture.
The opening day is a fun-filled event where thousands come to watch the inaugural parade, including the Boellerschuetzen canon firing. Throughout the festival crowds fill the giant tents on Munich's Theresienwiese field, as well as the nearby beer gardens for those who prefer the outdoors. Markets, rides, games, and music are big draws throughout the city, and are especially great for kids.
We have to mention the beer. Served in one liter mugs called mas (Maß), there are many varieties to try – Augustiner, Paulaner, Weissbier, Pils, and the famous Frühlingswiesnbier, which is specially brewed for the festival. It's cheap, it's plentiful, and it's delicious, but go easy – those giant mugs pack a punch!
To browse the hotels offering specials for this great event, head to http://press.agoda.com/news/2014/3/19/get-the-most-out-of-munichs-spring-festival-with-great-agoda.html to visit the Agoda.com Press Center. And don't worry about bring your lederhosen or dirndl – there are plenty of places to pick them up in town!