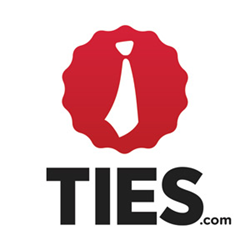 Garden Grove, CA (PRWEB) August 19, 2014
National Bow Tie Day (http://www.nationalbowtieday.com/) is celebrated annually on August 28th and Ties.com (http://www.ties.com/) is holding a one-day-only Buy One Get One Free Sale on their selection of bow ties. This offer will be available all day during August 28th at Ties.com. All discounts will be taken off automatically at checkout.
Ties.com will also be taking their celebration to social media, with a special Bow Tie Combination Giveaway. Beginning at 12 p.m. on August 25th through 12 p.m. on August 28th, followers can enter on Facebook and Instagram to win a bow tie, pocket square, and colored shoelaces pairing to round out their bow tie collection. There will be one winner chosen each day at 12 p.m. with a total of 3 winners. To receive details on how to enter the giveaway, follow our Facebook page (https://www.facebook.com/TiesDotCom) or Instagram (@tiesdotcom) by August 25th.
From butterfly to batwing to diamond tipped, Ties.com has an incoming array of new bow tie styles in a variety of shapes, colors, and materials. Wool, cotton, and faux leather will now be present in the already immense collection of bow ties at Ties.com, along with a mix of patterns ranging from remixed plaids to springtime florals. Ties.com has just what you need to amp up your collection of bowties on National Bow Tie Day.
National Bow Tie Day is the one day out of the year that we celebrate the simple elegance of the bow tie. This iconic menswear accessory has truly stood the test of time. Finding its origins in the 17th century upon the necks of Croatian mercenaries, the bow tie has come a long way from its religious roots and is now a fashion staple for every man looking to make a bold and classic impression. National Bow Tie Day is the perfect way for Americans nationwide to celebrate the age-old sophistication and unmatched quirkiness of the bow tie.
About Ties.com
Founded over a decade ago, Ties.com is the king of men's neckwear with an unmatched selection of neckties, bow ties, and accessories. This burgeoning eCommerce company offers affordable, on-trend styles with impeccable designs and lives by one simple mantra: Superior products, great prices, and unparalleled service.