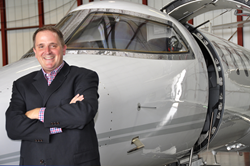 We really like Andrew and know our customers will too. ~ Sam Robbin, CEO National Jets
Fort Lauderdale, FL (PRWEB) September 23, 2014
After a nationwide search for the perfect candidate, National Jets Air Center, South Florida's award-winning FBO and private aviation leader, has announced Andrew Ash as General Manager. An aviation management veteran of 11 years, Ash brings his diverse skill set from Preferred Jet Center, LLC in Atlanta, GA to National.
Sam Robbin, CEO of National Jets said, "National was humbled by the overwhelming response of GM candidates from both independent FBO's and the nation's largest chains. It was important for us to have that right fit of cutting edge, forward thinking FBO management along with carrying on our 48-year tradition of providing a one-on-one customer experience. Andrew ticked all of these boxes and more. We really like Andrew and know our customers will too."
"Given National Jets rich history and reputation, I'm excited to further advance the air center's success by concentrating on our client's expectations with our strong focus on the overall customer experience," said Ash.
A graduate of Kennesaw State University in Georgia and a private pilot, Ash's extensive aviation experience includes FBO management, finance and marketing which provides him with unique insight into the needs of National's clientele.
About National Jets:
The company's roots began in North Carolina in 1947 when the Boy brothers, Carl, James and Tom, established the Durham Flying Club. The family moved to Ft. Lauderdale in 1957 and flew oil field equipment to South America, food supplies to the Caribbean, and distributed the Wall Street Journal in the United States. In 1966 the Boy brothers built their first FBO on Ft. Lauderdale Hollywood International Airport and in 1974 Tom Boy created National Jets acquiring the company's first Learjet for executive charter. National Air Ambulance, a wholly owned subsidiary of National Jets, was established in 1976 as the first air ambulance in the State of Florida. Today National continues to lease 40 acres on KFLL, home to their Learjet 45XR fleet, FedEx's hub facility, and modern, award winning FBO, hangar, and maintenance facilities. For more information, please visit NationalJets.com