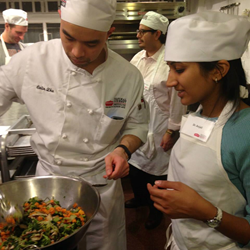 "with each class a new group of doctors is empowered to teach their patients about how a health-supportive diet can contribute to optimum health."- Anthony Fassio, CEO Natural Gourmet Institute
New York, NY (PRWEB) September 29, 2014
On October 6, 2014, Dr. Robert Graham will return to Natural Gourmet Institute with a fresh group of medical residents to learn the art of cooking healthy, delicious, and meatless meals. An innovator in his field, Dr. Robert Graham, Director of Integrative Health & Therapies at Lenox Hill Hospital is on a mission to motivate the new generation of doctors to lead healthy lifestyles and inspire their patients to do the same.
Twice a year, Dr. Graham and 15 Lenox Hill Hospital medical residents join Natural Gourmet Institute Chef Instructor Elliott Prag at Natural Gourmet Institute to learn how to cook healthy meals. The goal is for doctors to learn to live, cook and eat by example, enabling and empowering them to become role models and teachers for their patients. Always hosted on a Monday, these events also raise awareness for the Meatless Monday campaign.
The cooking classes are just one component of FareWellness, a program developed by Dr. Graham and his wife Julie Graham, which also includes Victory Greens, Lenox Hill Hospital's rooftop garden and yoga and meditation courses for medical professionals.
Since its inception in 1977, Natural Gourmet Institute has been educating chefs to inspire people to realize health through delicious food. This progressive partnership with Lenox Hill Hospital now brings their expertise to the medical community by giving doctors the tools to bring healthful cooking to their patients. "We are honored to continue our partnership with Dr. Graham and Lenox Hill Hospital," says Anthony Fassio, CEO Natural Gourmet Institute "with each class a new group of doctors is empowered to teach their patients about how a health-supportive diet can contribute to optimum health."
An important requisite of making healthy food appealing to doctors, diners and patients alike is that it is delicious. In this course, the medical residents will learn to make the luscious flavors of the Middle East, including: muhammarah on sesame and caraway whole grain flatbreads; treviso leaves with fava puree; Cucumber rounds with grilled haloumi cheese; roasted zucchini with harissa-spiced tempeh and yogurt; bamya stewed in saffron-infused tomato sauce, Pistachio and apricot baklava and more. Chef Elliott Prag created the menu and will lead cooking instruction and Kayleen St.John, MS, RD will present the nutritional profile of the menus from a clinical perspective.
Would you like to join us? Email jkauffman(at)nginyc(dot)com for event details.
###
About Natural Gourmet Institute
Founded in 1977 by Annemarie Colbin, Ph.D., Natural Gourmet Institute (NGI) is the leader in health-supportive culinary education. Natural Gourmet Institute's Chef's Training Program is a comprehensive and professional program that trains students to meet the growing demand for culinary professionals who are able to make the connection between food and health. Natural Gourmet Institute also offers public intensives, hands-on instruction, demonstrations and lectures for the healthy cooking enthusiast. On Friday night, the school is transformed into an intimate dining room, where NGI's Chef's Training Program students and instructors prepare a three course vegetarian Friday Night Dinner that is innovative, delicious and beautifully presented. http://www.naturalgourmetinstitute.com.
About Lenox Hill Hospital
Lenox Hill Hospital, a member of the North Shore-LIJ Health System, is a 652-bed, fully accredited, acute care hospital located on Manhattan's Upper East Side with a national reputation for outstanding patient care and innovative medical and surgical treatments. US News & World Report has ranked the hospital among the nation's top 50 in Cardiology and Heart Surgery, and Ear, Nose and Throat, and among the top 10 hospitals in the state of New York with a total of 10 "high performing" designations for its clinical performance in Cancer, Diabetes & Endocrinology, Gastroenterology & GI Surgery, Geriatrics, Gynecology, Nephrology, Neurology & Neurosurgery, Orthopedics, Pulmonology and Urology. It is also recognized nationally as a leader maternal/child health and offers a wide range of services in radiology, and medical and surgical specialties. For more information, go to http://www.lenoxhillhospital.org.
About Meatless Monday
Launched in 2003, Meatless Monday is an initiative of The Monday Campaigns, in association with the Johns Hopkins Bloomberg School of Public Health. By going meatless once a week, thus reducing our saturated fat intake, we can limit our risk of chronic preventable conditions like cancer, cardiovascular disease, diabetes and stroke. http://www.meatlessmonday.com.