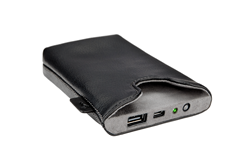 Novelsys is proud to reveal Ampere, the world's first phone sleeve with a revolutionary twist: it allows you to charge your smartphone on-the-go, wirelessly
Singapore (PRWEB) December 28, 2014
Novelsys is proud to reveal Ampere- the world's first phone sleeve with a revolutionary twist: it allows users to wirelessly charge their smartphone on-the-go, and for the first time, provides mobile consumers with an app to control their charging experience. It makes wireless charging simpler than ever before and promises to turn tangled wires into a thing of the past. The team is looking to raise $60,000 on crowdfunding platform Kickstarter, which will be used to order components and set up the assembly line.
"When you compare it to other charging options, let's say power banks, ampere provides a more seamless, more intuitive and smarter charging experience," said Mark Keong, co-founder and CTO.
Ampere's subtle fabric design cleverly conceals the technology within. It runs on a 2,700mAh battery, perfect for one full charge of an iPhone 6 for example, helping users get through their day. It includes a Qi-induction charger, compatible with a wide variety of phones like the Google Nexus 6; for Samsung Galaxy and iPhone users, a slim receiver that enables wireless charging will be included. Ampere is also packed with a micro-USB port for recharging, a boost converter that enables fast charging via USB at four times the typical laptop USB output, and Bluetooth Low Energy.
This allows Ampere to communicate with the smartphone through a unique app developed for Android and iOS. Users will be able to time when wireless charging starts, and monitor battery life for both your phone and Ampere precisely in minutes. If users misplace either their phone or Ampere, they can use the app to locate the other. The team looks forward to implementing new app features suggested by Kickstarter backers.
Novelsys has taken great pains to avoid the pitfalls of other hardware crowdfunding projects that have failed to deliver. "Our manufacturing partners are all lined up. We're now only waiting for pre-orders to come in with the crowdfunding campaign," says Delane Foo, co-founder and CDO.
Co-founder and CEO Kenneth Lou wants us to imagine a world free from wires. His dream? "We are Novelsys. Help us to power the world." Ampere launches on Kickstarter January 15, 2015 at an estimated early bird price of $79. For more information, check out http://kickstarter.novelsys.co.
Specifications at a glance:

Battery Capacity: 2700mAh
Weight: 180g
Size: 3.0" X 5.2" X 0.6"
Colors: Leather Black; Denim Blue (stretch goal)
Kickstarter Goal: $60,000
RRP: $119 (Kickstarter prices TBD, around $79)