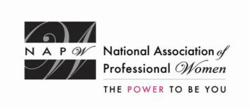 #IDLIFE is revolutionizing the health and nutrition industry!
Garden City, NY (PRWEB) March 04, 2014
NAPW honors Susan Eckley Ruch as a 2013/2014 VIP Professional Woman of the Year for leadership in the health/nutrition industry with this prestigious distinction. As the largest, most-recognized organization of women in the country, the National Association of Professional Women is a vibrant networking community with over 600,000 members and nearly 400 Local Chapters.
"#IDLIFE is revolutionizing the health and nutrition industry!" says Ms. Ruch, one of the founding partners of the company.
#IDLIFE stands for 'individually designed' and this is just what makes the company unique. It provides consumers with a personalized and targeted vitamin/nutritional supplementation. "Each person takes a free online HIPAA compliant personal health assessment for their own nutritional needs. They then get a complete nutritional program that is designed specifically for them and it is delivered to their own front door," says Ms. Ruch.
All #IDLIFE products are of the highest pharmaceutical grade quality, organic, natural, gluten free, GMO free and casein free. The 'core' product is a customized AM/PM vitamin strip pack, specifically designed for each individual based on his or her hereditary dispositions and health goals. It even takes into consideration any negative interactions with prescription medications from the thorough, confidential assessment. The online process, which only takes a few minutes, is free.
Ms. Ruch is excited to be a part of #IDLIFE, a company dedicated to improving the health, nutrition and wellness of others. Its mission statement, 'Bridging the gap from where you are to where you want to be!,' exemplifies its core values and commitment to good health.
NAPW provides a highly advanced networking forum to successful women executives, professionals and entrepreneurs where they can aspire, connect, learn and achieve. Through innovative resources, tools and benefits, members interact, exchange ideas, advance their knowledge and empower each other.