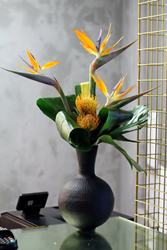 (PRWEB UK) 19 June 2014
London florists at same day flower delivery company Flowers24Hours are aware of how important it is to create a bright and engaging environment to work in. The florists at the flower delivery shop know that sometimes offices can be a bit dull which is why they have come up with a selection of bright and unique flower arrangements to help keep spirits up within the office environment.
The London florist and flower delivery shop has put together a wide range of bouquets and displays made from the most iconic, unique and bright flowers out there at the moment in order to really bring back a bit of life into the working day.
It is important to consider the area that the flowers will be placed within which is why these corporate flowers have been designed in a range of different vases and arrangements so that there will be something for every desk space.
The Snow in Summer piece holds a beautiful head of white hydrangea inside a stunning clear glass fishbowl design. The white choice of colour means that these flowers will work well within any decor and the fishbowl shape of the vase means that they are still stylish and yet small and simple enough to work well within an office environment.
To contrast with the piece above, the London florists at online gift shop Flowers24Hours.co.uk have picked out a variety of different bright and beautiful flowers in the Belle fiori summer coloured flower arrangement which will no doubt bring some zest back into the work day with these sat on the desk to spark inspiration.
Exotic flowers can also prove to be an interesting addition to the office and the Birds of Paradise flower arrangement has a warm orange glow to it which will warm up any room.
However if the office would prefer to have a more permanent addition then it would be worth exploring the flower delivery shops website for the cacti collection. The cacti prove to be popular amongst both men and women, so they are ideal for the working environment and as they require so little maintenance there really is no need to stress about having to look after them for longer than a bouquet of flowers. The cacti collections available to buy online at Flowers24Hours are also carefully picked by top UK florists and as a result of this the arrangements contain a vast variety of different cacti which makes them even more interesting to look at.
As online florist Flowers24Hours offers the option for flowers delivered in London that are ordered prior to 5pm to be delivered on the same day, the company is ideal when it comes to supplying corporate flowers delivery. To view the entire flower arrangement collection from the flower delivery shop, visit florist website Flowers24Hours and the London florists will ensure that the flowers are delivered fresh and on time to the office so that the employees can start their day feeling refreshed by the new additions to their work space.
About Flowers24hours - Todich Floral Design LTD
Flowers24hours's sister company Todich Floral Design is a top London florist specialising in hotel flowers, business flowers, restaurant flowers and office arrangements in London. Their skilfully trained members of staff have more than 15 years' experience creating exceptional bespoke designs for office flowers and plants and will work closely with their clients to come up with the perfect arrangement or display for an office or workplace.
It's been revealed office plants and flowers improve mood and creativity, and helps lower stress and anxiety. As well as these amazing fantastic benefits for employees, they also make a delightful addition to the front desk for the clients and visitors.
As one of the top UK florists ad floral stylists, the company offer their clients a free consultation, one week's trial and installation service and optional weekly maintenance; personalised floral designs tailored to a corporate identity or event, first-class customer service, a wide selection of vases and containers to lots of different office styles, venues and sets. The company provide trough their online flower delivery service Flowers24hours.co.uk same day flower delivery in London and next day flower delivery UK wide.
To find out more about Todich Floral Design's office flowers and office plants in London or to arrange a consultation, call corporate florist TodichFloralDesign.co.uk on 020 7737 1166 or visit their website.