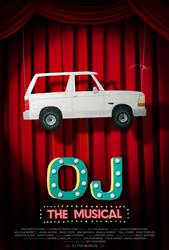 New York, NY (PRWEB) June 17, 2014
20 Years after OJ's infamous "White Bronco" car chase, now dubbed Bronco Day, comes writer-director Jeff Rosenberg's satire OJ: The Musical. Part mokumentary, part musical the film exemplifies that one man's tragedy is indeed another man's comedy. As the headlines encourage people to think back to that fateful day, they can take solace in knowing that now they can reminisce by singing along!
Struggling to find his creative muse, theater artist Eugene Olivier (Jordan Kenneth Kamp, Relative Obscurity) has a moment of inspiration: he will stage an OJ Simpson-inspired musical version of Shakespeare's "Othello." He enlists the help of his childhood friends Lawrence (Malcolm Barrett, The Hurt Locker, Better off Ted) and Regina (Larisa Oleynik, 10 Things I Hate About You, Pretty Little Liars), and helps them rediscover their now forgotten love for the theater. "OJ: The Musical" is a wacky and hilarious mockumentary about a musical misfit who comes to realize that it may not be as easy as he thought to stage the next great American musical. The film also features Paul Scheer, Eddie Steeples, and Sarah Hagan.
FilmBuff is releasing the film via all leading On Demand platforms including iTunes, Amazon Instant Video, Vudu, Google Play, XBOX Video, Sony Playstion, Blinkbox as well as Cable VOD.
About FilmBuff
New York-based FilmBuff is the leading distributor of incomparable digital entertainment who curates content that consistently informs, entertains and inspires.
Buy it on iTunes: http://bit.ly/1kfIf68