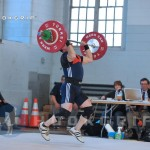 With the proper form, men and women can compete in Olympic Weightlifting from their early teens into their 80's.
Baltimore, Maryland (PRWEB) March 31, 2014
Olympic Strength Systems, a local business offering strength training, conditioning, and Olympic Weightlifting in the greater Baltimore area, is pleased to announce the launch of their new website at http://www.MyOlympicFit.com.
Their new home on the Internet provides a user friendly resource for people looking for an Olympic Weightlifting Coach. Along with the services provided, the website describes how founder, Mario Dispenza, works with people at all levels of interest, including those who want to compete at the elite level.
Also included is an inspirational page about Mario's transformation from being out of shape and overweight to competing in the World Masters Weightlifting Championship.
Learning the proper form of Olympic Weightlifting also helps Crossfit athletes improve their WOD (workout of the day) scores through efficient techniques.
For more information about the benefits of strength training and Olympic Weightlifting, visit http://www.myolympicfit.com.
About Olympic Strength Systems, LLC
Olympic Strength Systems, based in the greater Baltimore area, was established by Mario Dispenza. Mario is a USA Weightlifting (USAW) Advanced Sports Performance Coach, as well as a competitive lifter himself.