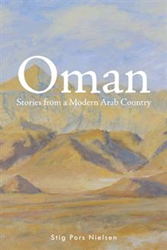 (PRWEB) September 23, 2014
Danish physician Stig Pors Nielsen shares life experiences from the time he spent as an expatriate in the beautiful, unspoiled land of the Sultanate of Oman in his new book, "Oman: Stories from a Modern Arab Country" (published by AuthorHouse UK).
Nielsen sings the praises of the modern Arab country led by Sultan Qaboos bin Said. He details the rapid development he says the sparsely populated country has experienced under Sultan Qaboos' leadership, focusing on the time he spent there in 1994 and 1995.
"The country has transformed from a backwards, non-unified country to a modern, homogenous state with a high standard of living dominated by tolerance, growing democracy and a respect for its cultural heritage," Nielsen says.
The author wants to remember Oman and its population and to inform the world of a country he says used fewer than 50 years to attain the modernization and development that Europe needed 500 years to accomplish.
"This is a modern Islamic country dominated by Ibadism, an ancient version of Islam dominated by tolerance – an example to the world that Islam in this version can avoid confrontation and conflict," Nielsen says. "The book is about the different regions of Oman appealing to foreign travelers and people who are interested in the rapid development of a backward country into a modern one."
"Oman"
By Stig Pors Nielsen
Hardcover | 6 x 9 in | 162 pages | ISBN 9781496987709
Softcover | 6 x 9 in | 162 pages | ISBN 9781496987716
E-Book | 162 pages | ISBN 9781496987723
Available at Amazon and Barnes & Noble
About the Author
Stig Pors Nielsen is a Danish physician who worked as a senior consultant at the Sultan Qaboos University Hospital in Oman from 1994 to 1995. He is a retired medical doctor who specialized in clinical physiology and nuclear medicine. He authored 219 scientific articles and books, and in later years, books on the problems of medical diagnostics.
AuthorHouse UK Ltd., an Author Solutions, LLC self-publishing imprint, is a leading provider of self-publishing, marketing, and bookselling services dedicated to serving authors throughout the United Kingdom. AuthorHouse UK is committed to providing authors the best self-publishing experience through a wide array of products and services designed to help individual authors realise their unique creative vision. AuthorHouse UK assigns each author a personal publishing, marketing, and book consultant to provide professional guidance throughout the self-publishing process. To date, AuthorHouse UK has released more than 6,500 titles. For more information or to begin publishing a book today, visit authorhouse.co.uk or call 0800 1974150 or follow @AuthorHouseUK on Twitter for our latest news and updates