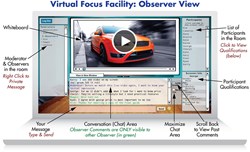 Back-room observers of online focus groups hear a live interpretation, word-for-word, as participant chat scrolls on the screen.
(PRWEB) January 31, 2014
Full service marketing research firm InsideHeads has teamed up with VerbalizeIt to offer clients the opportunity to hear live audio interpretation of online chat-based discussions. VerbalizeIt's human powered translation platform interprets live chats in real-time so clients don't miss a beat, even when the groups are conducted in a language they don't understand.
"Clients see the text discussion, hear the translation and can private-message the moderator with any requests or changes," explains Jennifer Dale, InsideHeads President and CEO.
For as low as $2.50/minute, "back-room" observers get an audio line to hear a professional from VerbalizeIt interpret, word-for-word, as live participant chat scrolls on the screen. VerbalizeIt interpreters are available in nearly a dozen languages, including: Arabic, French, German, Hindi, Italian, Japanese, Korean, Mandarin, Portuguese, Spanish and more.
About VerbalizeIt
VerbalizeIt provides businesses with on-demand access to human translation, ensuring that nothing is ever lost in any communication. Powered by a global community of over 14,000 translators, VerbalizeIt's cloud-based platform allows businesses to embed human interpretation, translation and transcription into any application.
About InsideHeads
InsideHeads is a full-service market research company providing web surveys and online focus groups to clients across the globe since 1998.