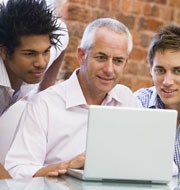 My staff and I were able to discuss the results immediately among ourselves online.
New York, NY (PRWEB) January 30, 2014
Much has changed in marketing research over the last several decades, but nothing more profound from the client's point-of-view than the increased popularity of online focus groups.
"My staff and I were able to observe the group discussions remotely and discuss the results immediately among ourselves online," explained Ron Katoni, Operations Leader at Dun & Bradstreet, after his first experience.
"I used to travel a lot from city to city, interviewing research participants and summarizing the results for my clients," says independent qualitative researcher Karen Brady. "Unfortunately clients were rarely involved during the actual data collection. While tapes and transcripts were provided, clients just didn't have the time. My summary report was their first and final exposure to any findings, which was not always easy for my clients to hear."
Karen became interested in online focus groups after talking with Jennifer Dale, President of InsideHeads, who moderated her first online group in 1998. Karen now has her own virtual focus facility and moderates her clients' focus groups right from her home office.
"Since I started doing groups online, my clients have become more team players throughout the data collection process. They're right there with me online and can see exactly what their customers are saying in real-time."
Karen uses a variety of online data collection methods in her work, including bulletin boards and webcam focus groups, but finds the immediacy of chat energizes her clients. "I can cover more ground with real-time text, since everyone responds simultaneously, the conversation actually moves on the screen. It's exciting for clients to watch."
About InsideHeads
InsideHeads is a full-service online market research company that provides training and support for qualitative researchers conducting their own online focus groups.