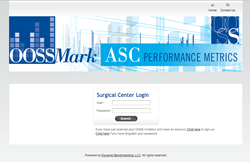 This benchmarking platform provides a great baseline tool to support the initiatives of OOSS… ensuring that member facilities and the ophthalmic ASC industry continue to achieve outstanding results as a model for the delivery of complex surgical care.
Windham, NH (PRWEB) February 04, 2014
Dynamic Benchmarking, a provider of dynamic online benchmarking and reporting solutions, today announced the launch of a new benchmarking platform for the Outpatient Ophthalmic Surgery Society (OOSS). Founded in 1981, OOSS represents and supports the professional interests and growth of nearly four hundred ophthalmic-driven ambulatory surgery centers (ASCs) and their over 1400 surgeon/owners and administrative staff throughout the U.S.
Benchmarking is critical to an ophthalmic ASC's operations, and is used to guide quality and performance improvement and provides information essential in addressing licensing, certification and accreditation. While there are several generic benchmarking tools available, the OOSSMark ASC Performance Metrics benchmarking platform provides ASCs with a comprehensive set of analytics designed to meet the specific and unique needs of specialized eye surgery centers.
OOSS launched OOSSMark ASC Performance Metrics in October 2013. The dynamic, online platform allows participating surgery centers to quickly and easily enter data in three areas of interest: company profile/demographic data, clinic data and business/financial data. The secure platform allows for multiple users to input data for their key areas of expertise (i.e. – business managers enter financial data while surgeons or clinical staff enter clinical data.) as well as allowing read-only access to resulting analysis and reports to other users. The platform is accessible 24/7, 365 days/year, allowing members to update their information and access personalized, dynamically generated reports whenever they are needed.
"We are very pleased with the ease of development and use of this new benchmarking platform," comments Outpatient Ophthalmic Surgery Society Executive Director, Dr. Kent Jackson. "Dynamic Benchmarking delivered a clear development plan for a well-designed, complete platform and has provided outstanding technical support throughout the entire process."
To date, over 25% of Outpatient Ophthalmic Surgery Society members have entered data into the new platform and that number is growing daily. OOSS has extended participation to non-member centers, which provides a more complete and comparative picture of the ophthalmic ASC industry. This safe and secure method of creating a knowledge base for the entire industry also showcases the benefits of OOSS's related services.
"This new benchmarking platform also provides a great baseline tool to support educational and consulting initiatives of OOSS… all designed to ensure that OOSS member facilities and the ophthalmic ASC industry continue to achieve outstanding results as a model for the delivery of complex surgical care," adds Jackson.
-- About Dynamic Benchmarking --
Dynamic Benchmarking is a women-owned start up that brings business benchmarking into the 21st century using the latest in web-based technology and reporting functionality. We partner with professional associations, non-profits and other organizations to offer Stack-Up™ to their members as a way of enhancing association value, contributing to member success, collecting industry trend data and creating non-dues based revenue. Stack-Up integrates our clients' industry expertise and information needs into a benchmarking platform allowing their members to easily compare financial and operational performance against their peers in a dynamic and interactive manner. It offers the features and capabilities of custom software in a format that is easy and quick to deploy. With our exclusive focus on benchmarking, Dynamic Benchmarking's entrepreneurs build solutions that are flexible and scalable across a wide breadth of industries, organizations and users. For more information, please visit http://www.dynamicbenchmarking.com.
-- About the Outpatient Ophthalmic Surgery Society (OOSS) --
OOSS is committed to helping ophthalmic owner/surgeons and staff achieve exceptional levels of performance. We do this by nurturing a community of smart, creative, and interesting people – our members - while serving as their voice in Washington and their source for expert advice, education and information. To learn more about OOSS visit http://www.ooss.org.