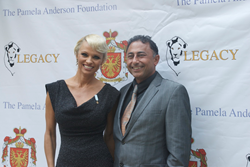 "It strives to give a voice to the animals who are unable to speak.
Beverly Hills, CA (PRWEB) November 25, 2014
Pamela Anderson bestowed title of Lady. Beverly Hills Lasik Surgeon introduces her.
A Knighting Ceremony was arranged at Hotel Bel Air, Beverley Hills in honoring Pamela with the title of Lady.
The ceremony was attended by Dr. Rajesh Khanna (Host of 'Medical Magic'); Pamela's husband and handsome son, Sir Linjie Chou-Zanadu; Co-creator of Simpsons Mr. Sam Simon; Baroness Lily Moore, and Baron Sir Steven Moore. The ceremony officiated by Sir Linjie Chou-Zanadu (who was in white traditional suiting) on behalf of Prince Stephan "Chi-ne-tik".
The Lady Pamela looked amazing and beautiful in black dress as she use to look in Baywatch.
The ceremony was started by an introduction of Pamela Anderson by Los Angeles Lasik Surgeon Dr. Rajesh Khanna. Dr. Khanna welcomed all the guests in Montenegro Knighting ceremony that was arranged for Pamela Anderson, Baroness Lily Moore and Baron Steven Moore. Dr. Khanna introduced Pamela Anderson and the reason she was being honored.
Prince Stephan and the guests were honoring Pamela for her extensive work in saving other wildlife and whales. The Pamela Anderson Foundation, founded by Pamela Anderson, does so much for the animal community. Through her foundation she supports animals on the front lines. She defended Paul Watson, of the Sea Shepherd- helping maintain biodiversity in ocean because she believes as ocean dies we die. She joined forces with Dame Vivienne Westwood for climate revolution. Further she raised funds and generated attention for organizations like PETA (People for the Ethical Treatment of Animals), Sea Shepherd (defending oceans and all its creatures), Last Chance for Animals (aggressive approach to stopping animal testing), JP/HRO Haiti (Sea Pen's Organization) and so many other organizations because of her love and affection for animals.
Lady Pamela passionately said in the ceremony that she was at the frontline at Faroe Islands. They were able to bring the number of whales slaughtered from around 30,000 to 35. Lady Pamela believes people should interconnect themselves with animals because they both have to live as one on the earth.
Sir Linjie Chou-Zanadu, on behalf of Prince Stephan "Chi-ne-tik" bestowed the title to Pamela Anderson. He also presented her with a royal certificate and personal gifts from the Prince.
It was a unforgettable day. Just like her role in Baywatch.