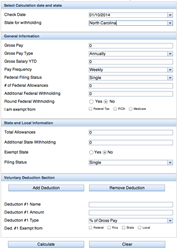 Scottsdale, Arizona (PRWEB) January 06, 2014
PaycheckCity® 's online payroll calculators have been updated to include the latest 2014 tax information following changes in federal, state, and local tax codes. Individuals can use the site's self-service tools to model what their take-home pay will look like given the tax changes announced early this year. Last year, the fiscal cliff sent employers scrambling to implement the new social security tax rate and adjust for any underwithholding of social security tax from previous pay periods. This year has proved a much smoother process as states and local districts and municipalities update their tax rates.
Here's how the calculators work: To see what an individual's likely take-home pay for 2014 is, visit PaycheckCity® and navigate to a standard paycheck calculator. Enter a check date, state for withholding, gross pay, pay frequency, federal filing status, and number of federal allowances. Complete the additional state and local information and make sure to include any voluntary deductions or other additional withholding that the worker is subject to in order to get the most accurate result. Click "calculate" to see the 2014 paycheck results including gross pay, deductions from the paycheck, and net pay or take-home pay. PaycheckCity® even provides a variety of print views for individuals to capture their paycheck results.
For the average American worker, not much will change from 2013 to 2014 concerning their take-home pay. PaycheckCity® offers self-service tools for paycheck management where individuals can model "what-if" scenarios using their wages and other paycheck figures to determine the impact on their take-home pay. Tom Reahard, CEO of Symmetry Software, states that over 300 tax updates for 2014 were coded in the Symmetry Tax Engine, which powers PaycheckCity® calculators.
To use the 2014 payroll calculators or to learn more, visit paycheckcity.com.
About Symmetry Software
Symmetry Software simplifies the payroll process with our dependable and accurate payroll withholding tax solutions. Our team of software engineers and taxation experts provide innovative, regulatory compliant payroll software products including the Symmetry Tax Engine®, Symmetry Payroll FormsTM, Payroll Point®, and PaycheckCity® calculators. Since 1984, Symmetry Software has been helping clients get the right taxes, the first time.
###