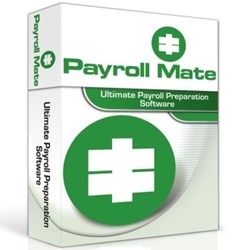 Payroll Mate is loved by thousands of small businesses, accounting firms and tax professionals.
Chicago, IL (PRWEB) October 03, 2013
Payroll and tax software developer, Real Business Solutions is pleased to announce that their 2014 Payroll Mate payroll software is available at a discounted price of $90 until October 31, 2013. For $90 only, small business owners and tax professionals can process payroll for up to 10 companies, with up to 75 employees per company for all the 2014 tax year. Payroll Mate® offers free technical support by phone, email and chat.
Payroll Mate makes switching from other payroll applications as simple as counting from one to three. With the powerful import feature for employee data and payroll setup, users can move tens of employees from other payroll systems into Payroll Mate within minutes.
Free small business payroll software trial available at http://www.PayrollMate.com/ .
For users wanting to import (push) payroll information into their accounting software, Payroll Mate has the right tools just for that. Payroll Mate can export payroll data to Intuit QuickBooks, Sage Peachtree, Sage 50, Microsoft accounting and Intuit Quicken. Payroll Mate also provides a general ledger export feature for sending data to any accounting solution that accepts importing GL transactions.
"Large U.S businesses can afford to have full time payroll management staff dedicated to paying employees, issuing payroll checks as well as keeping up to date with the ever-changing payroll tax regulations. This is almost never the case for small business owners. This is why we built Payroll Mate, state-of-the-art payroll management software that is easy to use, affordable and always up to date." says Payroll Mate product manager Nancy Walters.
Payroll Mate is loved by thousands of small businesses, accounting firms and tax professionals. Below is a short list of what this payroll solution can do:

Automatically calculates 2014 federal and state payroll tax withholding.
Supports different types of pay periods including weekly, biweekly, semimonthly and monthly.
Supports customizable income, tax and deductions categories.
Can be used as QuickBooks or Peachtree payroll alternative with the ability to export payroll data to QuickBooks software.
Exports Payroll checks to Quicken and accounting software like Microsoft Office accounting.
Supports 1099 payroll with the ability to pay Nonemployees / 1099 contractors, track vendor checks, generate comprehensive 1099 reports and print IRS tax forms 1099-MISC / 1096.
Supports the following payroll forms:
Form 941 - Employer's Quarterly Federal Tax Return.
Form 943 - Employer's Annual Federal Tax Return for Agricultural Employees.
Form 940 - Employer's Annual Federal Unemployment (FUTA) Tax Return.
Form W-2 - Wage and Tax Statement.
Form 944 - Employer's Annual Federal Tax Return.
Form W-3 - Transmittal of Wage and Tax Statements.
California DE 9 - Quarterly Contribution Return and Report of Wages.
California DE 9C - Quarterly Contribution Return and Report of Wages –Continuation.
Texas C-3 - Employer's Quarterly Report.
Texas C-4 - Employer's Quarterly Report Continuation Sheet.
New York NYS-45 - Employer's Quarterly Tax and Wage Report .
Illinois 941 and Illinois UI-3/40.
Prints MICR checks on blank check stock.
Supports income per mile and per piece.
Exports payroll reports to Excel, CSV and PDF.
Prints on Laser and Inkjet checks.
Prints on preprinted scannable W2 forms and W3 forms.
Generates comprehensive reports including payroll journal, tax liability and deposit requirement.
Generates Direct Deposit Files.
Give the payroll software from PayrollMate.com a test drive and see for yourself how easy managing payroll can be. Visit Payroll Mate software page.