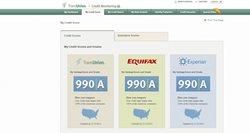 That's great David. Not only did you max out your scores but I think you did something else even more impressive. You were able to achieve the same score across all three credit bureaus.
Massillon, OH (PRWEB) November 12, 2014
SubscriberWise® the nation's first issuing consumer reporting agency for the communications industry and the leading provider of analytics-driven subscriber risk management and rules technology, announced today that company president David Howe has obtained perfect Vantage scores at Equifax, Experian, and TransUnion. The scores were simultaneously generated on November 12, 2014, and follow perfect FICO 850 scores at each of the national repositories.
The perfect Vantage scores – mathematically confirmed and never before demonstrated – once again offer undeniable evidence that FICO and Vantage models are profoundly correlated when credit bureau data are consistent.
Credit Sesame's John Ulzheimer, renowned financial literacy speaker and a U.S. nationally recognized credit and FICO expert — "That's great David. Not only did you max out your scores but I think you did something else even more impressive. You were able to achieve the same score across all three credit bureaus. I've seen plenty of 850s in my day, but I've never seen someone have the same score across all three credit bureaus. That's actually more uncommon than a perfect score."
Howe, who was among the first professionals in the U.S. to obtain FICO Professional Certification, has published several videos and articles about credit that he hopes will inform and empower consumer everywhere, including:

"The pursuit of perfect credit should not be the goal for the nation's consumers," stated David Howe. "I have pursued this goal for a number of personal and professional reasons over a very long period of time. However, consumers should know the basics of credit scoring. Consumers should know the primary factors that are used to calculate credit scores. And they should understand how financial situations and life events may impact their scores.
Stay tuned," concluded Howe. "I'm going to produce a comprehensive video to share every granular detail that I've learned over the past 27 years that I know will empower and educate consumers while also demystifying credit reports and scores."
About David Howe and SubscriberWise
David Howe is founder and president of SubscriberWise. He is also a consultant and credit manager for MCTV. During his 18-year career at MCTV, Howe has reviewed more than 50,000 credit submissions. His interest in credit began in 1986 while a 17-year old student in high school.
Howe is the only known individual – living or deceased – to have obtained simultaneous perfect FICO 850 scores across every national credit bureau. Howe has also obtained multiple perfect Vantage 990 scores. Howe has obtained FICO Professional Certification and is also the first and only citizen of the world to describe and report the details of the perfect FICO score to a U.S. reporter.
Howe produced and published two videos on the subject of perfect credit: FICO 850 Credit Report Facts and FICO Scores: The Facts. The first general-purpose FICO scores were debuted nearly a quarter century ago.
SubscriberWise® launched as the first U.S. issuing consumer reporting agency exclusively for the cable industry in 2006. In 2009, SubscriberWise and TransUnion announced a joint marketing agreement for the benefit of America's independent cable operators. Today SubscriberWise is a risk management preferred-solutions provider for the National Cable Television Cooperative.
SubscriberWise contributions to the communications industry are today quantified in the tens of millions of dollars annually.
SubscriberWise is a U.S.A. federally registered trademark of the SubscriberWise Limited Liability Co.
Contacts
SubscriberWise
David E. Howe, +1 330-880-4848 Ext: 137