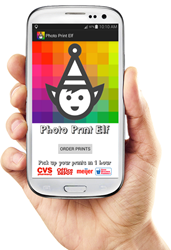 "We aimed to deliver the simplest and easiest Android app solution for consumers to print all of their favorite photos right from their phones, instantly" -- Rodney Rumford, vice president, Mobile, MailPix
Huntington Beach, Ca (PRWEB) October 14, 2014
MailPix.com, the photo-printing and gifting site, has released Photo Print Elf, an Android app for printing photos for pick up at popular retailers like CVS, Office Depot and Meijer. Users can select pictures to print from their camera roll, as well as social sites like Facebook, Instagram, Google Plus and Flickr. Photo Print Elf debuts at the Mobile Photo Connect conference, Oct. 15, at Ft. Mason, in San Francisco.
"We know that there is way too much friction trying to get prints of your favorite photos from your social networks and devices," says Rodney Rumford, vice president, mobile, MailPix. "Quite frankly it is just far too difficult and time consuming. We wanted a simple way that any user could do this in about 1-2 minutes. Photo Print Elf totally solves that problem."
Users simply select the social network where their photos are located and choose the photos, quantity and sizes to print. Users can then select which stores are closest for print pickup in about an hour, or another location for pickup by friends and family. Users can pick up their photo prints in about one hour at convenient local retail locations such as CVS, Office Depot, Meijer and more than 10,000 retail locations.
"We aimed to deliver the simplest and easiest Android app solution for consumers to print all of their favorite photos right from their phones, instantly," says Rumford. "We all live on our devices and this just seemed like the perfect solution to print from the palm of your hand. We are working diligently to expand the offering to the Apple IOS platform in the coming weeks."
Photo Print Elf for Android is available now on the Google Play Store.
ABOUT MAILPIX.COM
MailPix.com is the pre-eminent site for printing photos instantly at thousands of retailers from a phone app or PC and also offers convenient mail-to-home. MailPix preserves photo memories as photo books, canvas, prints, cards, enlargements and other photo gift products featuring free lifetime storage. The company is seamlessly integrated to print 240 Billion+ Facebook and Instagram photos…and photos from any phone, device or computer. MailPix offices are located in Huntington Beach, Calif., with an additional Canadian site at http://www.mailpix.ca.
Fred H. Lerner  is the founder and CEO of MailPix, his latest startup. He previously founded Ritz Interactive, which included RitzCamera.com, WolfCamera.com and others.  Fred also founded two imaging companies which were acquired by Kodak and became the CEO of Kodak Processing Labs. He is a Hall of Fame recipient at the United Nations' International Photographic Council and past president of the Photo Marketing Association International. 
Peter Tahmin, co-founder and COO of MailPix.com, was the former vice president at Ritz Camera & Image and co-founder, senior vice president and COO of the Ritz Interactive e-commerce network, which included RitzCamera.com, WolfCamera.com, BoatersWorld.com and others. He brings 20 years of e-commerce experience and a lifetime of imaging industry experience to MailPix.