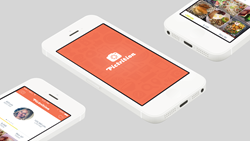 This is an effective and fun way to start eating healthier.
Austin, TX (PRWEB) January 08, 2014
Since launching at the October 2013 DEMO Conference, Pictrition has been changing the way people view their diet over time. With more than 100,000 photos rated by a health conscious community, Pictrition is now offering rewards for players who capture their nutritious meals.
Loop Health, the creators of Pictrition, is an Austin-based company housed in the Capital Factory accelerator program. Loop Health believes the future of health care is personal and aims to develop the software for a more individual-centric view of health, starting with diet.
Pictrition is a free mobile app for iOS that is designed to help anyone lose weight by making it social, fun, and easy. It leverages the powerful mechanics of a food journal, but without having to tediously write down every detail of one's diet like most calorie trackers. Just take pictures of the food eaten throughout the day and a health conscious community will rate how healthy it is. This feedback is translated into points depending on how healthy each meal is rated. Those points can be used to compete against friends and family or challenge yourself by setting goals and tracking progress.
Inside Pictrition, users can take advantage of geotagging their pictures to see which restaurants or parts of the city they ate at are the healthiest or unhealthiest. Players can easily track their weight manually or make it automatic by syncing with a Withings scale. Any iPhone 5S owners will also be able to passively track their movement by taking advantage of the new M7 processor.
Even the medical community is starting to show interest in technology focusing on behavior change. "This is an effective and fun way to start eating healthier. I recommend it to my patients," said Dr. Bernardo Olaya, MD. For every activity tracker on the market there are still only a few options for tracking nutrition and they all have the same basic model, manual calorie tracking. "We wanted to make something that was beautiful and easy to use so everyone could take advantage of keeping a food journal and the benefits that come from it," said Taylor Pechacek, COO of Loop Health.
In future updates, Pictrition will be focusing on social features such as 1v1 challenges, further integration with Instagram, and group play. To create a better user experience, more partnerships with fitness devices and apps are being looked at. There has also been some excitement about the unique ability to capture what athletes and other leaders in the wellness industry are eating for an entire week, all through pictures.
For any feedback, questions, or interests in a partnership with Pictrition, please visit http://www.Pictrition.com.