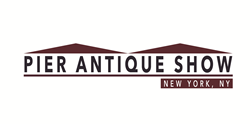 New York, NY (PRWEB) July 23, 2014
The Pier Antique Show announced today that 80 percent of all booths are sold for the upcoming November show. New York City's largest antiques event is hosted by U.S. Antique Shows, the world's leading producer of indoor antique shows.
The Pier Antique Show is held bi-annually in March and November, and features more than 400 exhibitors of quality antique furniture, jewelry, decorative and fine arts. The very popular Fashion Alley also reoccurs at each show.
"As we approach our second year hosting November's Pier Antique Show, we've received valuable feedback from both dealers and attendees and plan to make some adjustments to this year's show," says Dan Darby, Emerald Expositions vice president and U.S. Antique Shows general manager. "We've increased the number of dealers on the show floor by adding 25 new booths this year. This will diversify the categories available to attendees by providing them with more options than in previous years. We also plan to expand our Fashion Alley section by including new dealers for 2014."
Darby also says that the Pier Antique Show will host the Second Annual Appraisal Day during the show on Nov. 23. In partnership with Skinner Auctioneers & Appraisers, all attendees with a valid ticket to the show are invited to bring one item to be appraised by one of Skinner's three expert appraisers. Each appraiser, including one specifically experienced in antique and vintage jewelry, will provide an unbiased, expert opinion of the attendee's collectible or antique.
The show will once again be partnering with the Art Deco Society of New York this November. The New York society, who will have a booth onsite during show hours, will provide those with an interest in Art Deco information on how to become involved in the organization, as well as support the Art Deco exhibitors participating in the show.
From classic and formal antiques to Americana and decorative arts, modern designs to vintage fashion pieces, the Pier Antique Show's versatility has made it an internationally famed shopping spot for novice and serious collectors, interior designers, fashion icons, and celebrities. Items featured on the show floor include a wide variety of kitchen and home décor, paintings, antique jewelry, art glass, ceramics and more. Also, varied selection of vintage clothing, jewelry, and handbags are available in the Fashion Alley.
Dealers, who annually exhibit at the show, constantly remark on its grand scale and the unique merchandise showcased each year.
"David and I love doing the Pier Antique Show as we're in the midst of the most exciting mix of dealers and merchandise to be found anywhere," says Dealer Karen Murphy. "We've had consistently stellar shows and I can't imagine where else I'd regularly find the best of everything – top professionals, rare and wonderful pieces, and a sophisticated and well-informed buying crowd."
"The Pier Antique Show has a lot of great dealers. More than 400 dealers fill almost three football fields, and an attendee can find pieces that range from $5 to millions. There are treasures everywhere!" says Paul Haig of Haig's of Rochester.
U.S. Antique Shows now produces nine shows nationally. The next show scheduled is the New York Antique Jewelry & Watch Show, July 25-28 at the Metropolitan Pavilion.
About U.S. Antique Shows:
The Pier Antique Show is produced by U.S. Antique Shows, a division of Emerald Expositions. U.S. Antique Shows – the world's largest producer of indoor antique shows – focuses on presenting a wide range of antiques, as well as antique, vintage, and estate jewelry and watches to 50,000 consumers annually. The company draws more than 3,000 dealers from 28 countries worldwide, exhibiting their signature collections in 400,000 net square feet across nine shows. U.S. Antique Shows is the only producer that serves the unique needs of the antique and antique jewelry industry, supporting sales in Las Vegas, Los Angeles, Miami, Miami Beach and New York. Their shows host internationally recognized dealers promoting the purchase of rare and unusual historic merchandise to antiques collectors, novice enthusiasts, socialites, and celebrities.
For more information, visit http://www.USAntiqueShows.com, like us on Facebook: Facebook.com/PierAntiqueShow, follow us on Twitter: @USAntiqueShows and explore our Pinterest: Pinterest.com/USAntiqueShows. Check out our new blog at http://www.USAntiqueShows.com/TheQuill.aspx.