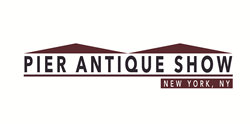 New York, NY (PRWEB) November 26, 2014
U.S. Antique Shows, producer of the most anticipated antique events in the country, recently concluded their second Pier Antique Show for the year hosted at Hudson River's Pier 94, Nov. 22-23, 2014. The company reported strong sales across the show floor for the entire weekend from both new and veteran dealers as well as an impressive crowd for Appraisal Day.
With expanded categories at this November's Pier Antique Show, nearly 30 new dealers were seen exhibiting at Pier 94 that have previously not participated in this staple New York event.
The Store with No Walls, Janet Maluk and Aleks Langdon, exhibited as part of the brand new Mode Vintage Fair Pavilion located in the popular Fashion Alley. "We've done other regional and international shows, but we were always interested in exhibiting at the Pier Antique Show," says Maluk. "Being at this show as first time exhibitors has been a very positive experience, we've sold a number of pieces, including clutches, handbags and hats and met a lot of great people that appreciate vintage fashion. I will participate in every show that U.S. Antique Shows' offers because of the wonderful time I've had this year's show."
Another first time exhibitor, James Koester of James Koester Antiques, reaffirms Maluk's enthusiasm for the show. "I love New York and the Pier Antique Show has been great! I've sold a variety of items and there's been lots of action." Koester also signed up to exhibit in the upcoming Miami National Antique Show and The Original Miami Beach Antique Show in January.
In addition, many of the show's veteran dealers had exceptional comments about the weekend event.
Gloria Karp from Glorious Antique Jewelry said, "It's been a good show! There has been lots of knowledgeable customers, which makes work fun!" Silver dealer Martin Chasin, who's been exhibiting at the Pier Antique Show for 23 years, sold many significant pieces. "I've had a wonderful show. It's been a buying crowd all weekend long."
Appraisal Day, held Sunday, Nov. 23 from 10 a.m. – 3 p.m., was also a huge success. In partnership with Skinner Auctioneers & Appraisers, the event attracted nearly 100 attendees curious about the value of their family heirlooms'. The participants doubled in number from the First Annual Appraisal Day held at March's Pier Antique Show.
The items brought in for appraisal varied in both value and size, from jewelry and ceramic pieces to a vintage bicycle and large scale paintings. One woman brought her small wicker basket in for appraisal, since she had seen a similar one on the popular television show, Antiques Roadshow. She was surprised to learn that it was worth upwards of $4,000.
April Matteini, Skinner's antique jewelry appraiser, revealed another unique discovery. A women brought in a three carat diamond ring with an estimated value between $8,000 and $10,000.
The Pier Antique Show features more than 400 exhibitors of quality antique furniture, jewelry, and decorative arts. Items featured on the show floor include an array of kitchen and home décor, paintings, antique jewelry, art glass, ceramics and more. Also varied selection of vintage clothing, jewelry and handbags are available in the popular Fashion Alley area of the show.
U.S. Antique Shows now produces eight shows nationally. The Pier Antique Show is held semi-annually. The Spring Pier Antique Show will be held March 28-29, 2015 at Pier 94. The company will also be debuting LUEUR, New York's newest antique jewelry and watch, October 15-18, 2015 at The Tunnel in Chelsea. For more information, visit http://www.LUEURNY.com
About U.S. Antique Shows
U.S. Antique Shows, producer of the industry's most anticipated events, serves the unique needs of the antique and antique jewelry marketplace with shows in Las Vegas, Los Angeles, Miami, Miami Beach and New York. The group's events offer a broad range of antiques as well as antique, vintage and estate jewelry and watches, and annually draws more than 50,000 consumers and 3,000 dealers from 28 countries worldwide.
U.S. Antique Shows is a division of Emerald Expositions, North America's largest owner and operator of business-to-business and consumer tradeshows. The company's jewelry portfolio is comprised of trade and consumer events including the U.S. Antique Shows division, Couture, JA New York (Summer and Winter), and JA Special Delivery.
For more information, visit http://www.USAntiqueShows.com, like us on Facebook:
Facebook.com/PierAntiqueShow, follow us on Twitter: @USAntiqueShows and explore our Pinterest: Pinterest.com/USAntiqueShows. Check out our new blog at http://www.USAntiqueShows.com/TheQuill.aspx.