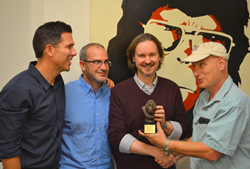 "It takes a whole world to save a species" - Gary & Inggriani Shapiro
Los Angeles, California (PRWEB) October 22, 2014
Actor and activist Ed Begley, Jr. joined leading environmentalists, animal rights activists, and NASA's climate scientists in Beverly Hills on Sunday, October 19th for the Orang Utan Republik Foundation's (OURF) annual fundraiser and 2014 Pongo Environmental Awards.
Among this year's recipients of the 2014 Pongo Awards include, Showtime's "Years of Living Dangerously," for the series' work in promoting climate change awareness and education, Professor Michael Mann, one of the most important, resilient, outspoken and courageous climate warriors our time, and "The Dawn of the Planet of the Apes," for the film's dramatic portrayal of an evolving population of great apes and a devolving population of humans in what could be a possible future based on technology and failure to be good stewards of the planet. Playwright George Shea and actor Mike Farrell were honored for the stage production of "Dr. Keeling's Curve," the one man show about Dr. David Keeling, the scientist known worldwide for his work documenting global warming. Finally, Ronna Phelps, owner of Chandler Farm, was honored for creating a palm-oil free beauty and skin care line of products with profits benefiting orangutan groups.
Each year, the OURF recognizes the achievements of individuals for distinguished work to support and protect the sanctity of the inhabitants of our earth, and the right to existence for each individual species, as a birthright on our planet. The Pongo Awards are given to those, who have made significant contributions to protect the welfare of all living species via advocacy, leadership, public service, ethical commerce, education and research.
The Orang Utan Republik Foundation (http://www.orangutanrepublik.org) is dedicated to saving critically endangered wild orangutans and over 10,000 other threatened species from extinction through education and outreach programs in Indonesia. OURF awards scholarships to promising Indonesian students in the fields of Forestry, Biology and Veterinary Science to become scientists and conservationists. Subsequently, these young educators go on to work on the front lines of the conflict, educating villagers on new environmentally conscious agricultural techniques to grow crops in sustainable ways, and planting and reconditioning the devastated forests that have been burned to the ground. OURF field teams also train villagers who have a high degree of conflict with orangutans and gibbons, so the animals are not brutally killed by the native populations.
OURF's Annual Fundraiser raises money to support the ongoing work of OURF's education initiatives, such as the Orangutan Caring Scholarship program and conservation education to schools, government agencies and the community at-large. OURF's Mobile Education & Conservation Unit also works with farmers in villages in Indonesia to reduce conflict with ape populations in adjacent forest habitat by enhancing agro-forestry techniques that improve productivity on existing farm and community forestland, including creation of recycling/waste management/composting projects; soil quality enhancement, tree planting, and developing appropriate permaculture methods.
According to Gary Shapiro, President of the OURF, "The orangutan is the species that demonstrates our unbreakable bond with the animal kingdom. The orangutan is one of our closest relatives, sharing approximately 97% of our DNA. Once found widespread throughout the forests of Asia, orangutans are now found only on the islands of Sumatra and Borneo. There are two genetically distinct species: the Sumatran orangutan (Pongo abelii) and the Bornean orangutan (Pongo pygmaeus). Both species are highly endangered due to habitat loss and poaching." Shapiro was a pioneer in teaching orangutans symbolic communication and was the first to teach sign language to free-ranging, ex-captive orangutans in the forests of Indonesian Borneo in the 1970s. He later studied the blackwater rivers of Borneo and went on to help conserve orangutans through various nonprofit groups he co-founded.
The Pongo Awards are produced annually by the Orang Utan Republik Foundation. For further information and to participate in OURF's mission, please visit http://www.orangutanrepublik.org.