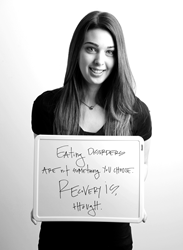 "Uniting from all different backgrounds we strive to show that eating disorders do not discriminate," comments Ashley Tritt, Canada Chapter Co-Founder. "The hope that Project HEAL provides is invaluable."
New York, NY (PRWEB) February 24, 2014
Project HEAL: Help to Eat, Accept and Live joins forces with thousands to highlight the real faces of eating disorders in honor of this year's National Eating Disorder Awareness Week (NEDAwareness Week), Feb. 23- March 1. Events are being held across the United States and Canada to raise eating disorder awareness, promote healthy body image and prove that, with proper treatment, eating disorder recovery is possible.
Through the lens of positive body image and uplifting experiences, Project HEAL comes together to break the stigmas that afflict this silent epidemic. Launching NEDAwareness Week, Project HEAL will introduce #RecoveryIs, a social media campaign showcasing eating disorder diversity. Bringing awareness to a severe mental and physical illness that currently plagues 20 million women and 10 million men in the United States, the #RecoveryIs campaign will be held in conjunction with various Project HEAL chapter events.
"With Project HEAL's signature financial assistance program we work to provide treatment and promote positive body image. We advocate for a more accepting and just mental health care system, and together we are truly saving lives," comments Project HEAL Co-Founder, Liana Rosenman. People who suffer from an eating disorder can recover if they are able to receive comprehensive treatment. Project HEAL knows this through the first-hand experience of its founders, supporters and volunteers, as well as through the testimonials and success stories of the organization's grant recipients.
Some of the many Project HEAL chapter events include public speaking engagements with subject matter experts, dine and donate events, public and silent auctions, as well as presentations highlighting the dangers of eating disorders and raising eating disorder awareness. All proceeds from the week's events will provide financial grant assistance for people with eating disorders who cannot afford treatment.
"Witnessing a healthy teenager's free fall into the dark hole of an eating disorder is too much to bear alone," shares Project HEAL Board Member, Jack Britvan. "To stand on the sideline is not acceptable. We need to take a deep breath, acknowledge how fortunate we are and make a personal pledge to help those that have fallen to the devastation of an eating disorder."
Project HEAL encourages individuals to help end the misconceptions linked with eating disorders by providing a source of awareness, recovery and hope. To get involved with Project HEAL, participate in a NEDAwareness Week chapter event, or launch a Project HEAL chapter visit http://www.theprojectheal.org or contact Project HEAL Executive Director; Sara Brody at Sara(at)theprojectheal(dot)org.
Project HEAL: Help to Eat, Accept and Live (http://www.theprojectheal.org) is a 501©3 not-for-profit organization that raises funds to provide financial assistance grants for those with eating disorders who are unable to afford treatment. Project HEAL founders, Liana Rosenman, 22 and Kristina Staffran, 21 met while undergoing their own treatment for anorexia nervosa when they were 15 years old. The two young women helped each other to reach full recovery and were inspired to help others do the same. Since the organization's founding in 2008, Project HEAL has raised over $300,000, been able to provide full treatment for many grant recipients and continues to promote healthy body image and self-esteem in the hopes of preventing future eating disorders.