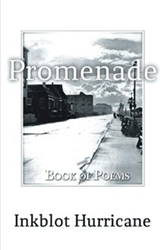 A wondrous collection of poems, song & blues penned between the early 1960s & the present day
Jerusalem, Israel (PRWEB) September 20, 2014
The medicine show comes to town, and with it Inkblot Hurricane, a man who weaves a tale painted in carnival colors of a generation ago. From poet-author Hurricane, aka Martin Abramson, comes "Promenade", a wondrous collection of poems, song & blues penned between the early 1960s & the present day. Though distinctly American in its rhythms & language, his poetry traverses half a tumultuous century & much of the globe. In a unique blend of styles & voices, Hurricane writes of emotion, of burning bridges, love & romance, rhythm & blues, territories of social situation, cartesian localities & indestructible ideals in a signature style that rarely fails to draw readers to his poetry. Readers will find "Promenade" intimately approachable, thought provoking & chock full of the author's wry, remarkable insight and honesty.
For more information on this book and its author, interested parties may log on to http://www.XlibrisPublishing.co.uk.
ABOUT THE AUTHOR
The day before Pearl Harbor, Marty Abramson's family of Jewish immigrants arrives in the City of Angels from the Bronx. At fourteen, set on becoming a cowboy, he leaves home for Arizona with his father's blessing & hires out as a wrangler. After serving in an army recon unit on the East German border he's back home in LA. He boxes Golden Gloves, runs games as a carney & acts at the Hollywood Playhouse. He drives a cab until an eccentric Palm Springs oil heiress hires him away to be her chauffeur & bodyguard. Still fresh on the job, he uncovers a plot by local gangsters to steal the widow's fortune. In an episode of hard-boiled intrigue not unlike the noir fiction of his favorite prose writer, James Cain, Hurricane busts their game & foils the plot.
At the height of the beat era in the late fifties, poetry & jazz supply heady oxygen to Abramson's Venice West neighborhood. Selling encyclopedias door-to-door, Martin is an after-work regular at the VeniceWest Café where he is exposed to words as poetry & as performance art. Inspired by poets like Stuart Perkoff & Charles Bukowski, he begins to write & recite on his own—soon accepted as a poet among poets. In refreshing contrast to the common practice of reading off a printed page, Abramson earns his street creds reciting his poetry by heart & instead of standing at a podium, he moves amongst the patrons sitting at their coffeehouse tables. Mid-sixties finds Abramson active in the poetry scenes of San Francisco & Berkeley. Friend & neighbor, Poet Laureate Lawrence Ferlinghetti films & tapes Martin & sells his chapbooks at his legendary City Lights Bookstore. Back in LA, Abramson transforms his growing repertoire into the Inkblot Hurricane Poetry Revue, adopts Hurricane as his nickname & takes the show on the road. Just as his work begins to see considerable publication, he drops out & disappears from the scene & turns up in Idaho working in the world's deepest silver mine. Later, he hits the road again—this time with his young son, David—busking on the street, performing his review in nightclubs, theaters & art galleries throughout North America, Europe & Israel. In the mid-eighties he returns to Jerusalem where he lived for over three decades. Hurricane Abramson continued to devote himself to his poetry, teach guitar & perform on stage until the very last months of his life. PROMENADE, this vital treasury of his life work, ricochets with captivating, page-turning passion.
(©Copyright, D. Smith, 1988, 2011)
Promenade * by Inkblot Hurricane
Book of Poems, Song and Blues
Publication Date: 9/27/2013
Trade Paperback; $27.18; 550 pages; 9781453556344
Trade Hardback; $43.18; 550 pages; 9781453556351
eBook; $6.38; 9781453556368
To request a complimentary paperback review copy, contact the publisher at +0800-644-6988. To purchase copies of the book for resale, please fax Xlibris at 44-203-006-8880 or call +0800-644-6988.
Xlibris books can be purchased at Xlibris bookstore. For more information, contact Xlibris at +0800-644-6988 or on the web at http://www.XlibrisPublishing.co.uk.